Our Software Story
Much to all of our surprise, we were most famous for the DC Formatter. Our first shareware program started with v2.2 and it was the first to carry the Double Click Software name. Sure enough, we started getting donations after releasing it! Our strategy was to bank it until we could do something more.
Next Paul & I released Shadow through Antic Software which gave us enough money to release DC Utilities (v1 & v2) and attend some shows, which gave us money to release DC Desktop (v1 & v1.2) and work on DC Port development.
After promoting DC Utils & Shadow & working the Atarifest circuit we went on to release DC Desktop, DC Port (3- & 5-port), DC Shower and (DC) Data Diet. We upgraded DC Formatter to 3.02 and released 52 freeware programs every week in 1991.
We were all lucky to attend multiple Atari shows in the US, Canada, the UK and Germany; with beta testers as far away as Austria (who we got to meet in Salzburg) and distributors in Belgium, Netherlands, UK, France, Germany and two in Australia! In the end, sales dwindled terribly even for poor student types as the Tramiels choked & the PC market took off.
And so began a very fun run programming on the Atari ST and being able to create bonds which have lasted to this day (2017). If I were to get stuck in time, it would be this era.
The Atari ST was a simple operating system, a 'wild west frontier' with many developers 'trail blazing' software; all of us true pioneers for TOS and GEM and GUI development. Today we take for granted the functionality available in operating systems and have more power in our cellphones and browsers (as can be seen by the Atari ST emulator here!)
Thank You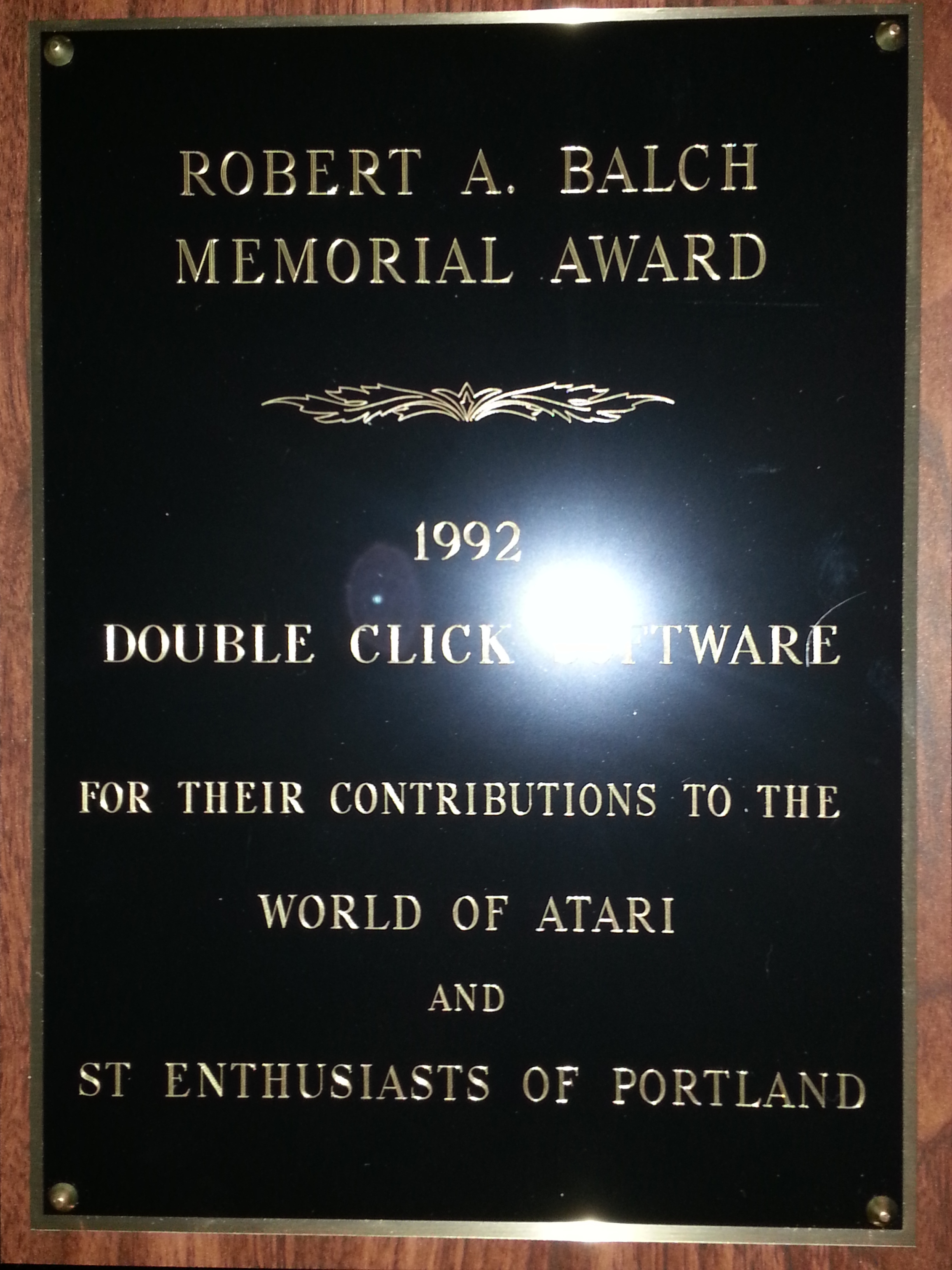 Mostly thanks to all our customers and fans who supported the Atari ST/TT computers and Double Click Software. Without the support of people who believed in our products and us as people, we wouldn't have made it as long as we did in that small vibrant market.
Even today we are still friends on Facebook with our Atari brethren from this golden age of computing. We appreciated the community and had some of the best times of our lives at the Atari shows.
Double Click is still very appreciative of the user group awards we received and the support we got from the local Houston Atari ST Computer Enthusiasts (HASTE) & Houston Atari Computer Enthusiasts (HACE) user groups.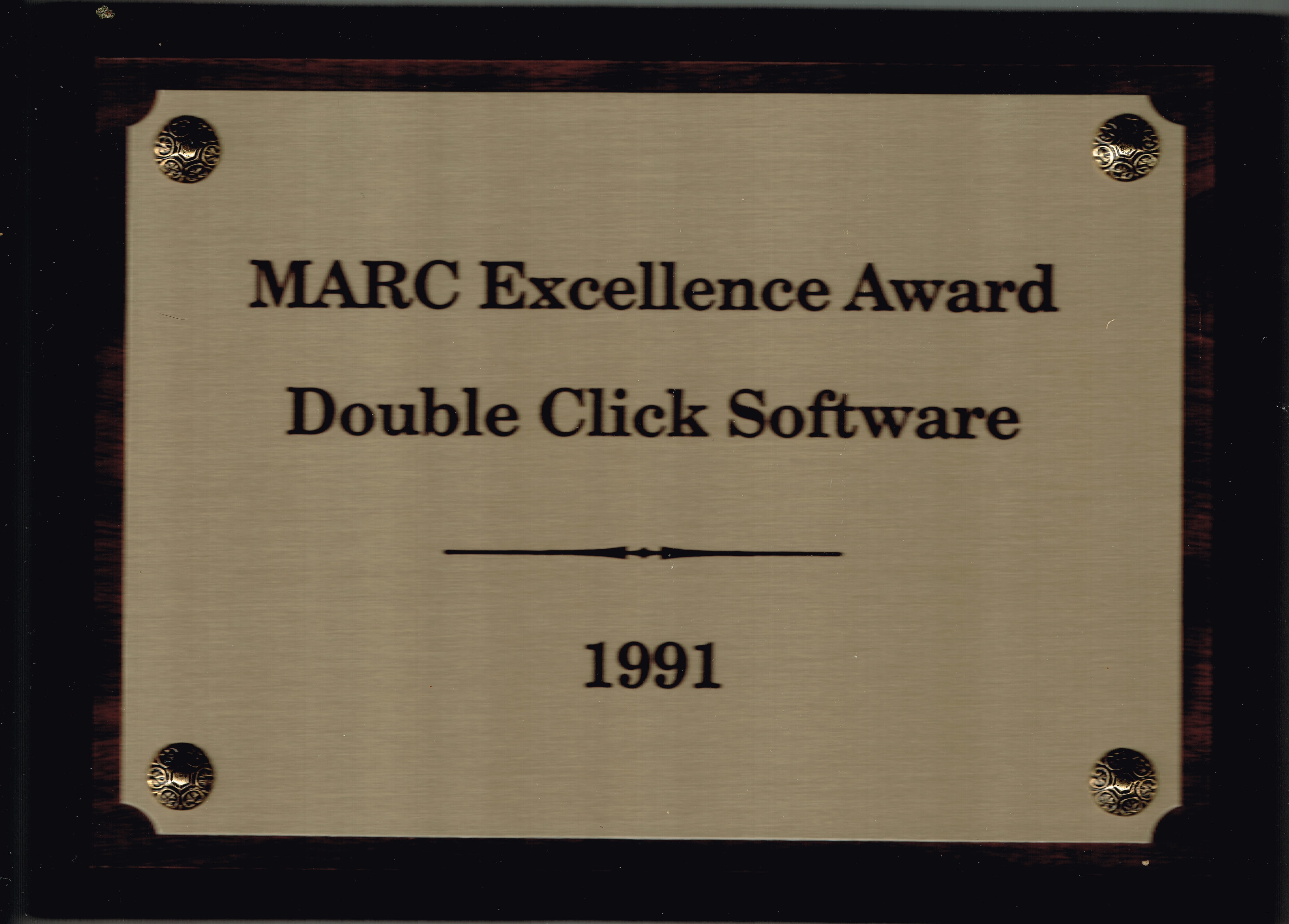 Gilbert Callaghan (DC Port, DC Clock, DC Terminal)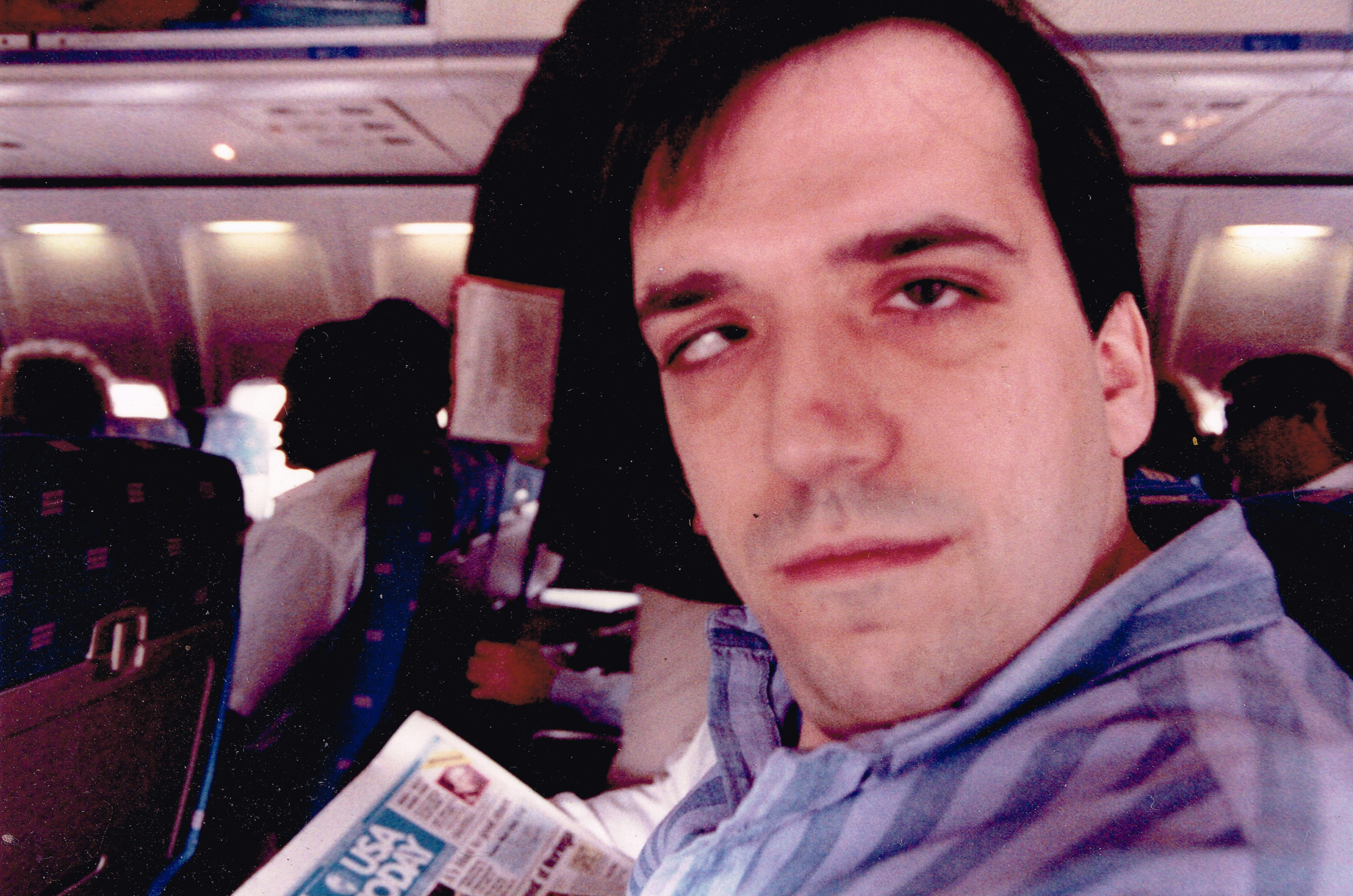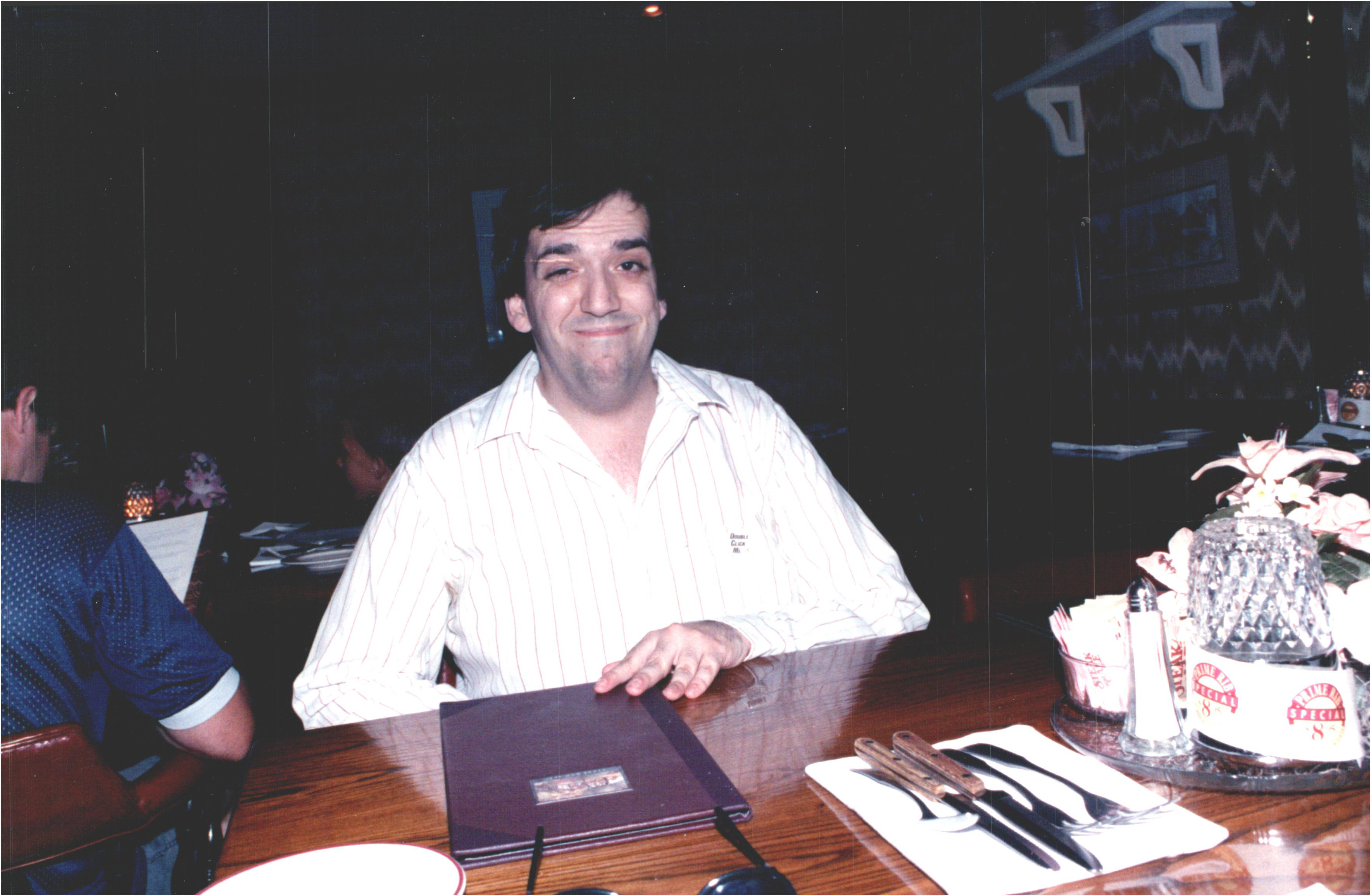 Photo is from our trip to the German Atari messe in Dusseldorf and Gilbert is joking for the shot.
Gilbert Callaghan was the best programmer I knew at the time and he often helped me out with programming. In fact, Gilbert got me my first professional programming job with him, and later Paul. When I met Gilbert he was an elite Atari 8-bit unerground game hacker but I appealed to his desire to create something of his own and brought him to the light side.
Incredibly savvy with his grasp of things, Gilbert quickly realized the Atari ST 'read-only' cartridge port was really not the case and proceeded to design the DC Port which alowed reading and writing thru the port. And DCS was well placed to produce the product and send him touring to promote it.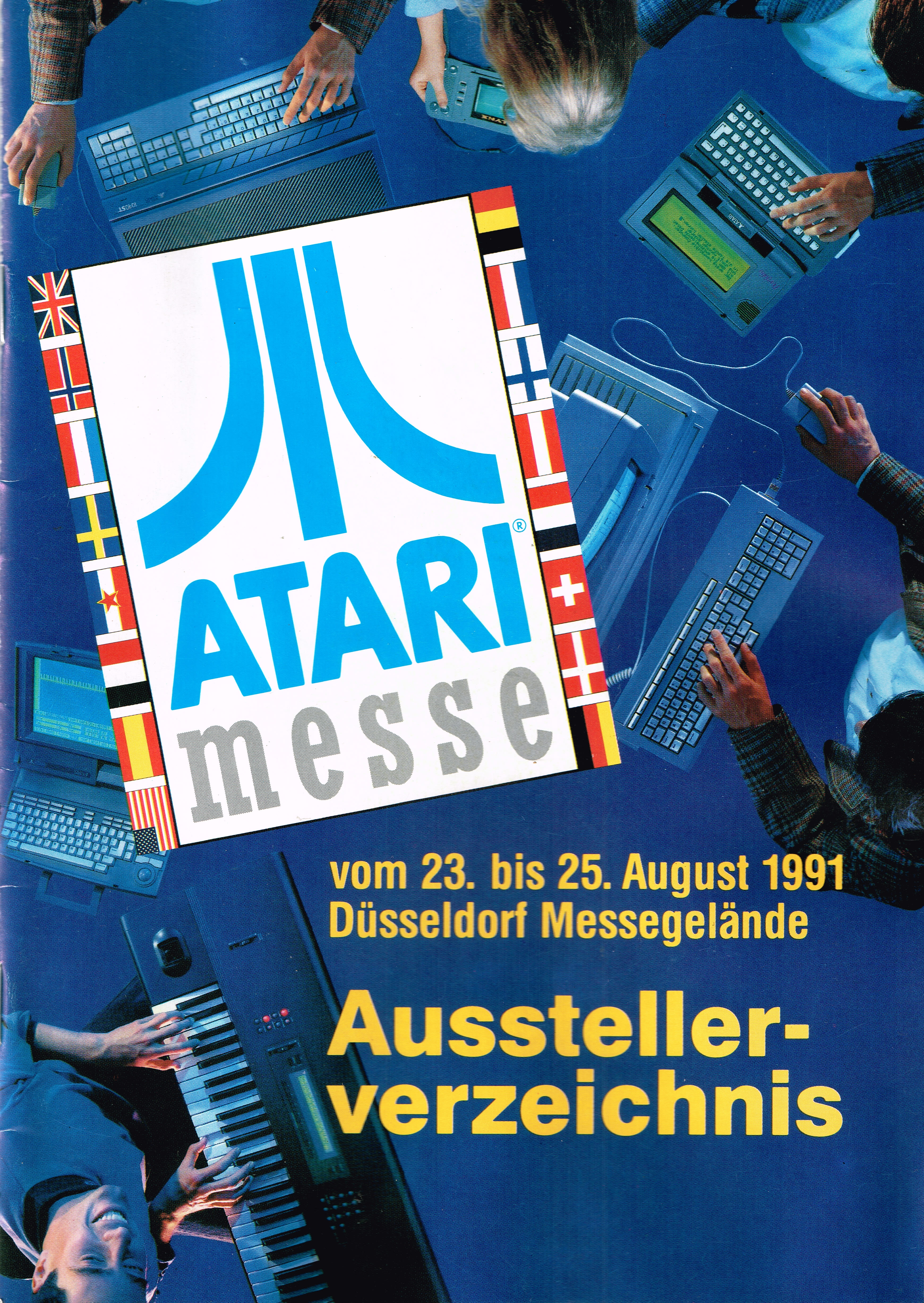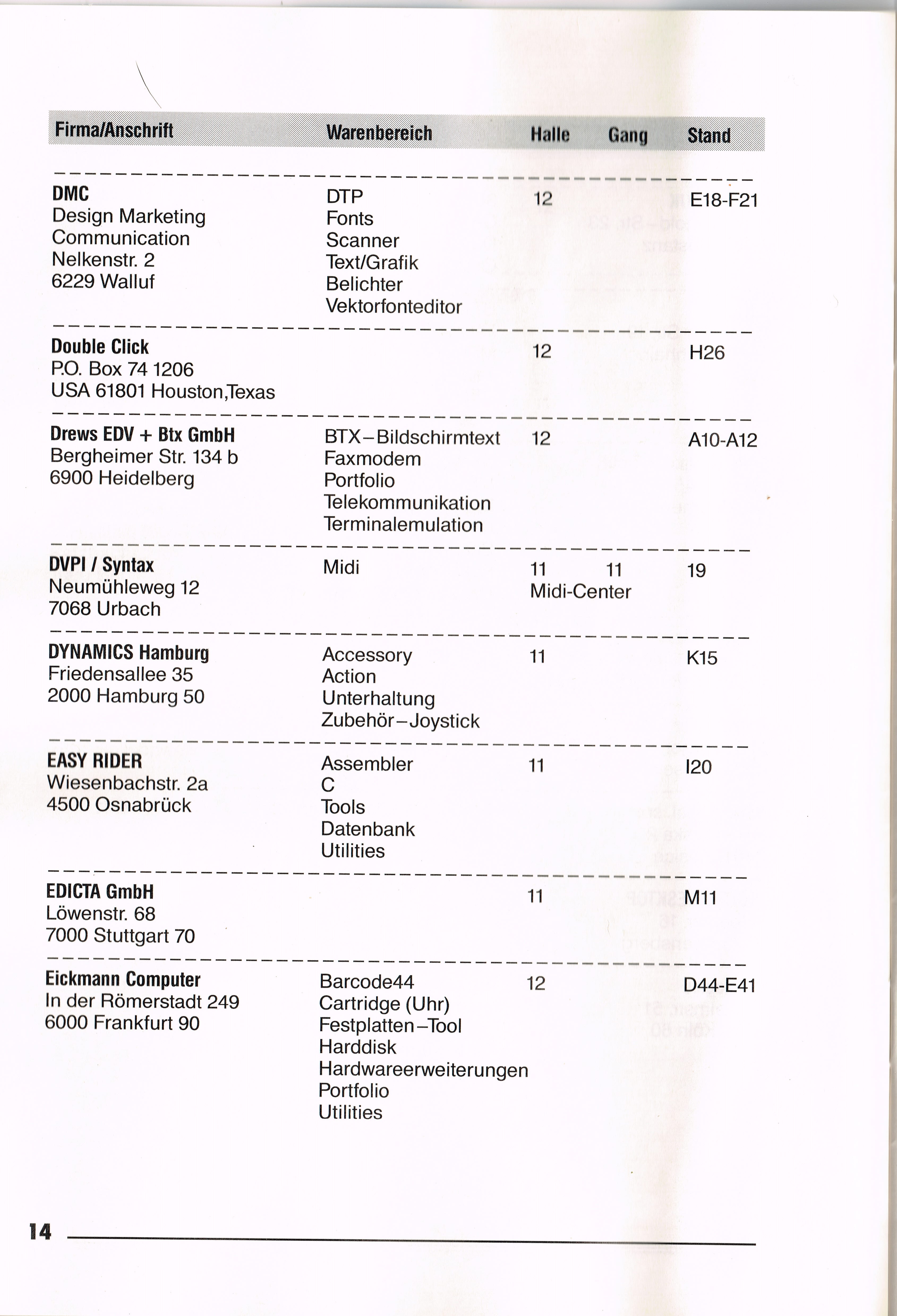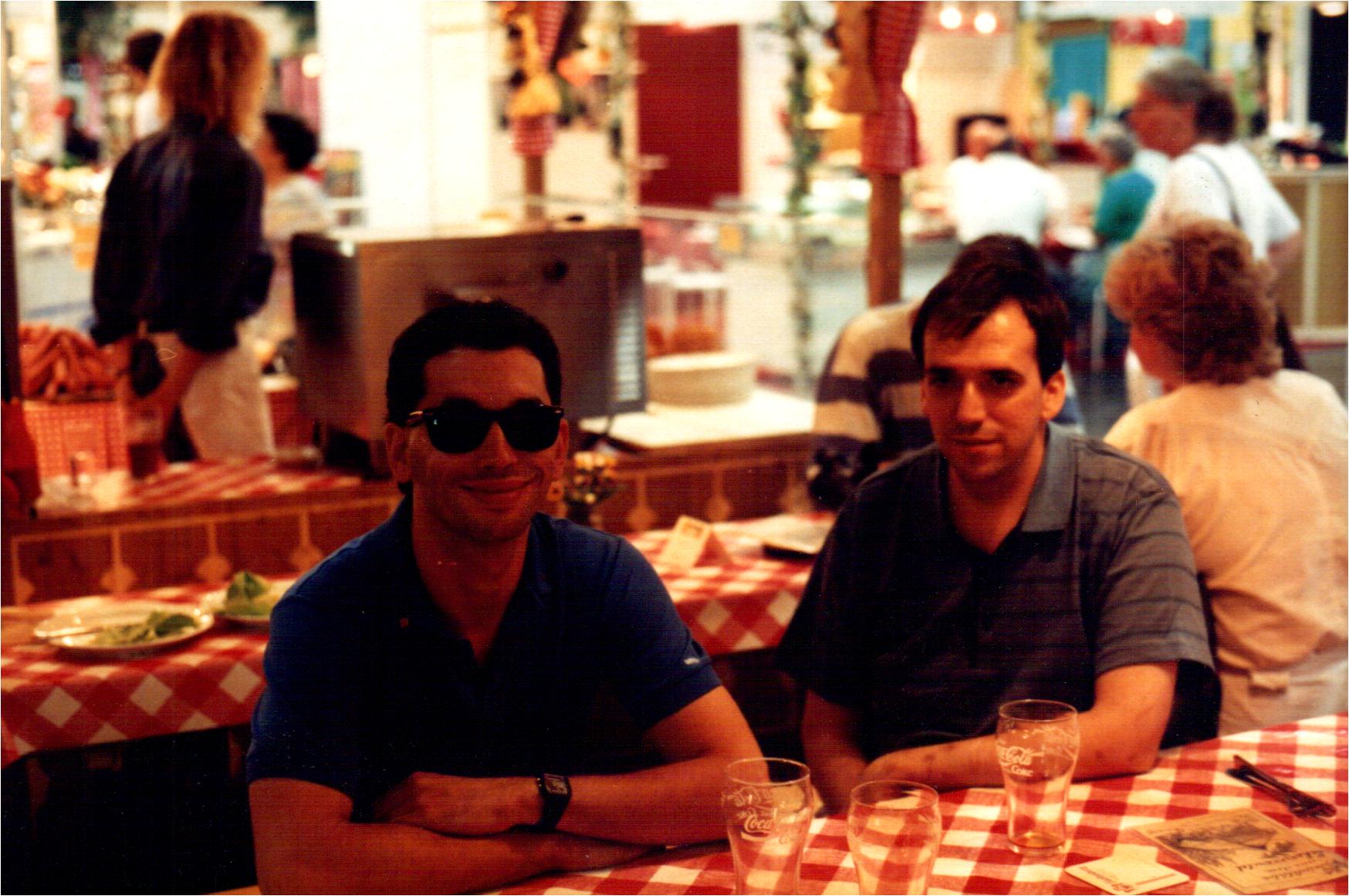 Mike and Gilbert in Germany for the CeBIT show
Paul Lee (Shadow, DC Formatter, DC Xtract Plus)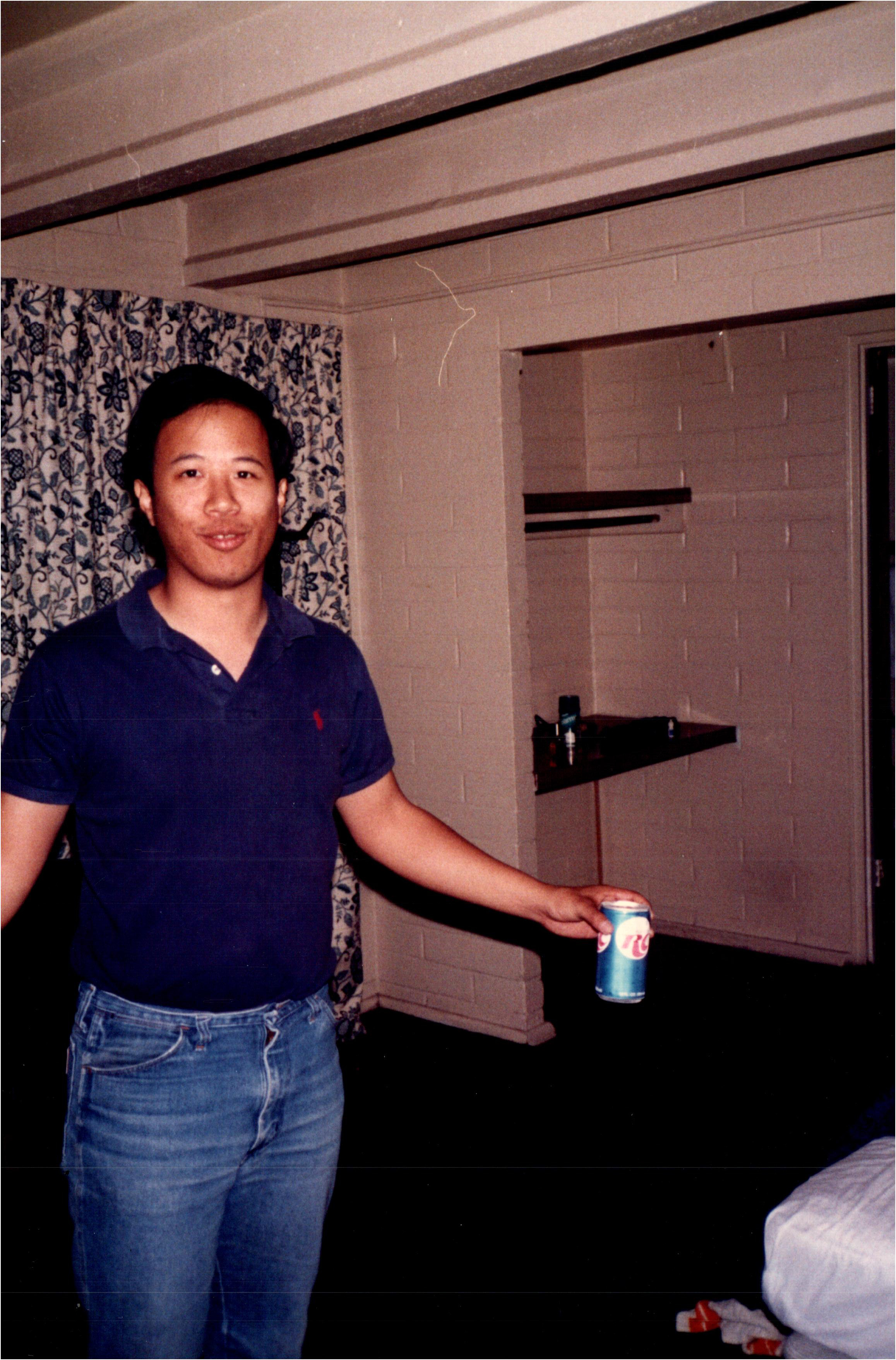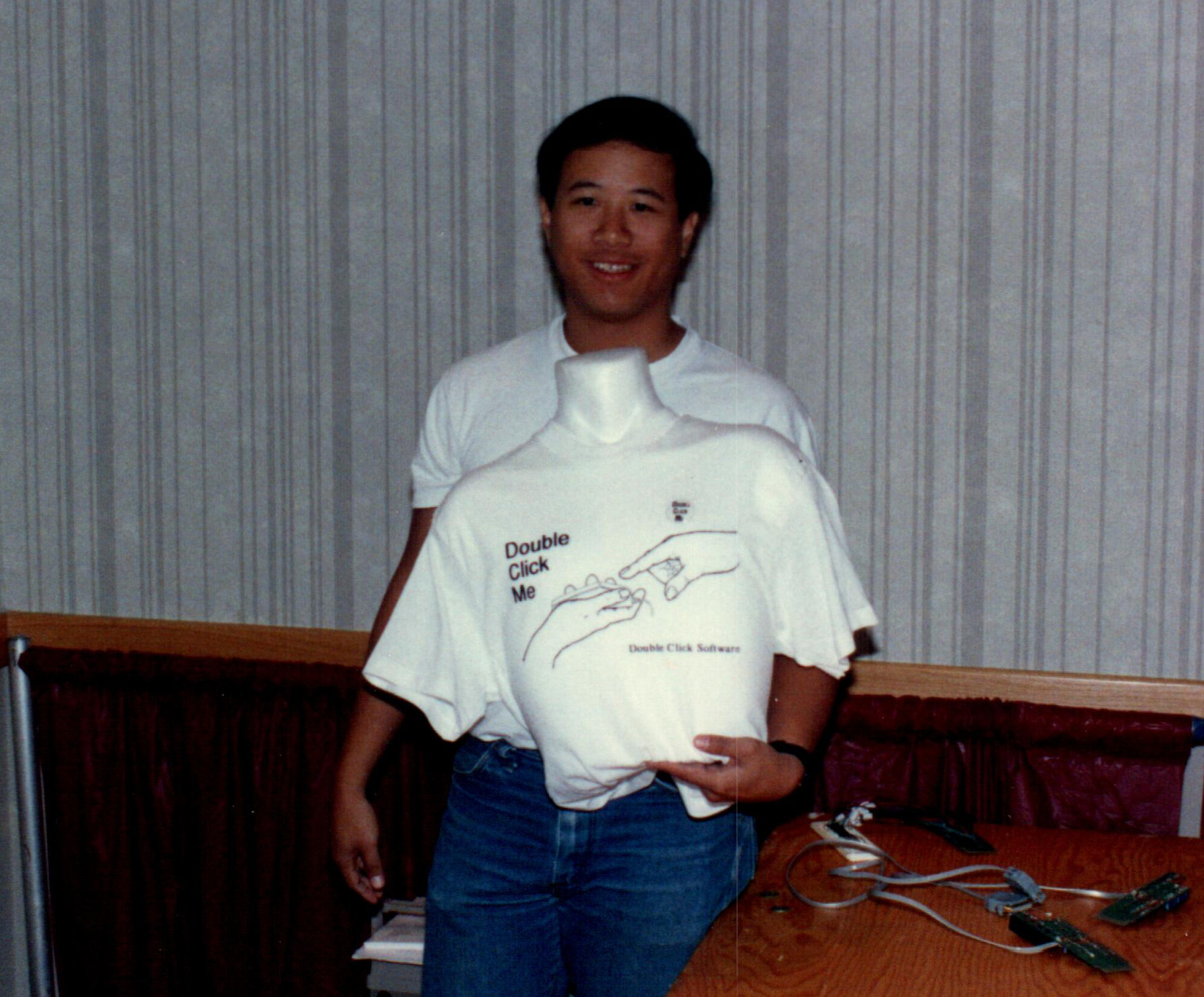 Paul Lee is completely understated and accomplished being the only programmer in Atari ST software history (and all programming history as far as we know) to perform file transfers completely during the small hardware interrupt time used to receive ONE byte of data. Shadow (distributed by Antic) was a vision with many headaches, steep learning curve and a need to be ingenious to be quick and invent tricks to speed up the process.
Paul also had his hands all over DC Formatter, DC Xtract Plus and DC Utilities.
But, probably the most BRILLIANT piece of programming Paul ever produced was DC SEA: Self Extracting Archive which would be used on almost all user group, magazine and other free disks EACH MONTH across the country and around the world (FREE advertising baby!).
See These Disk Instructions
HERE
Michael Vederman (DC Desktop, DC Formatter, POW)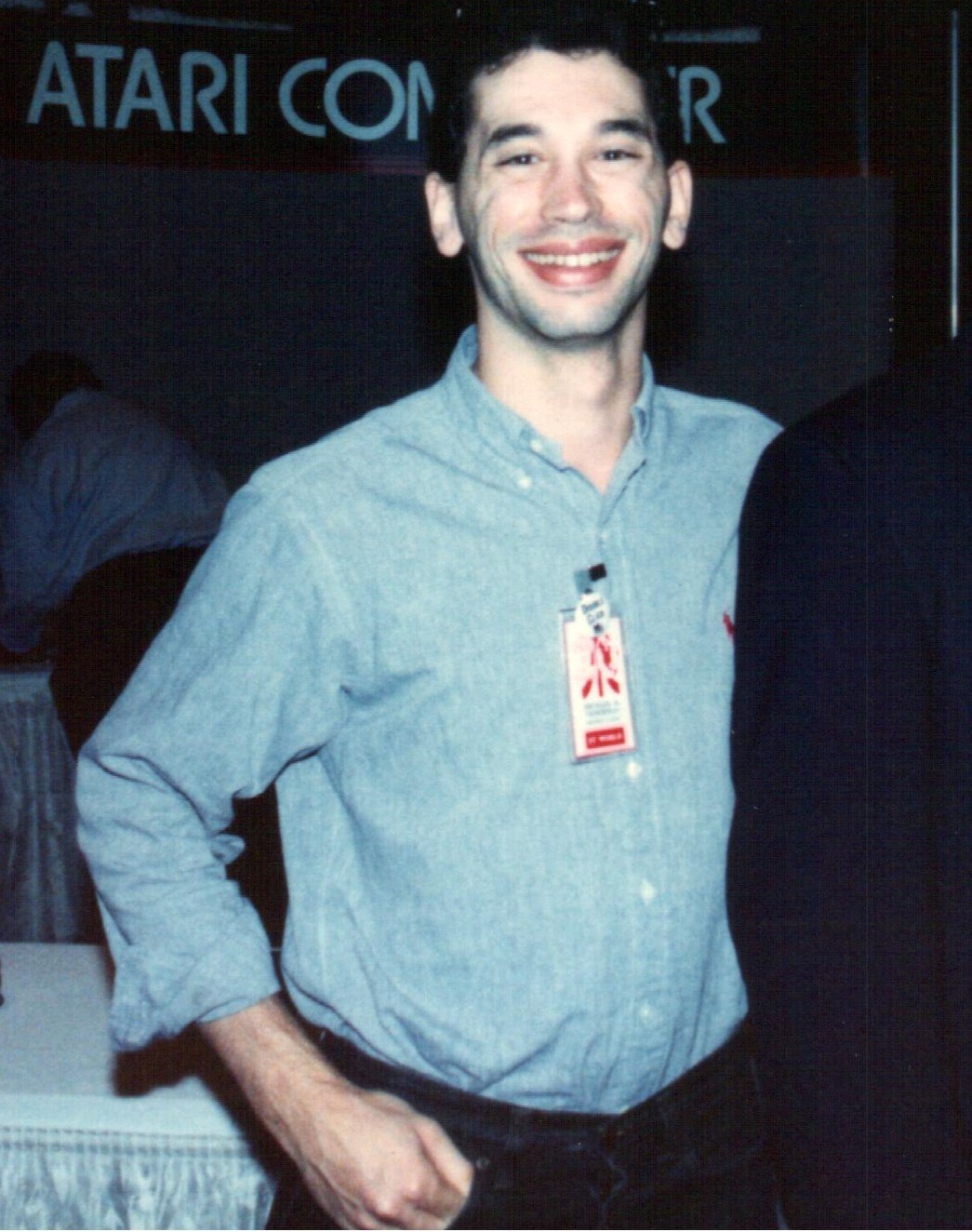 Michael Vederman was named Programmer of the Year for 1991/1992 from the Atari ST Connection magazine as evaluated by 30 programming peers. Mostly this was a credit to the 52 POW - program of the week programs which Double Click released every week of 1991. A move lauded by the Atari community but reviled by some fellow Atari developers who shunned DCS for giving away so much software.
DC Desktop was his passion but he also had a hand in all product development as the managing partner. He was also a driving force to managing DCS on a daily basis calling distributors, fullfilling orders, taking support calls, preparing for shows as Paul and Gilbert had 'real' jobs already after University of Houston. But it was always "all hands on deck" the night before a show as we pulled an all-nighter to shrinkwrap dozens of each product.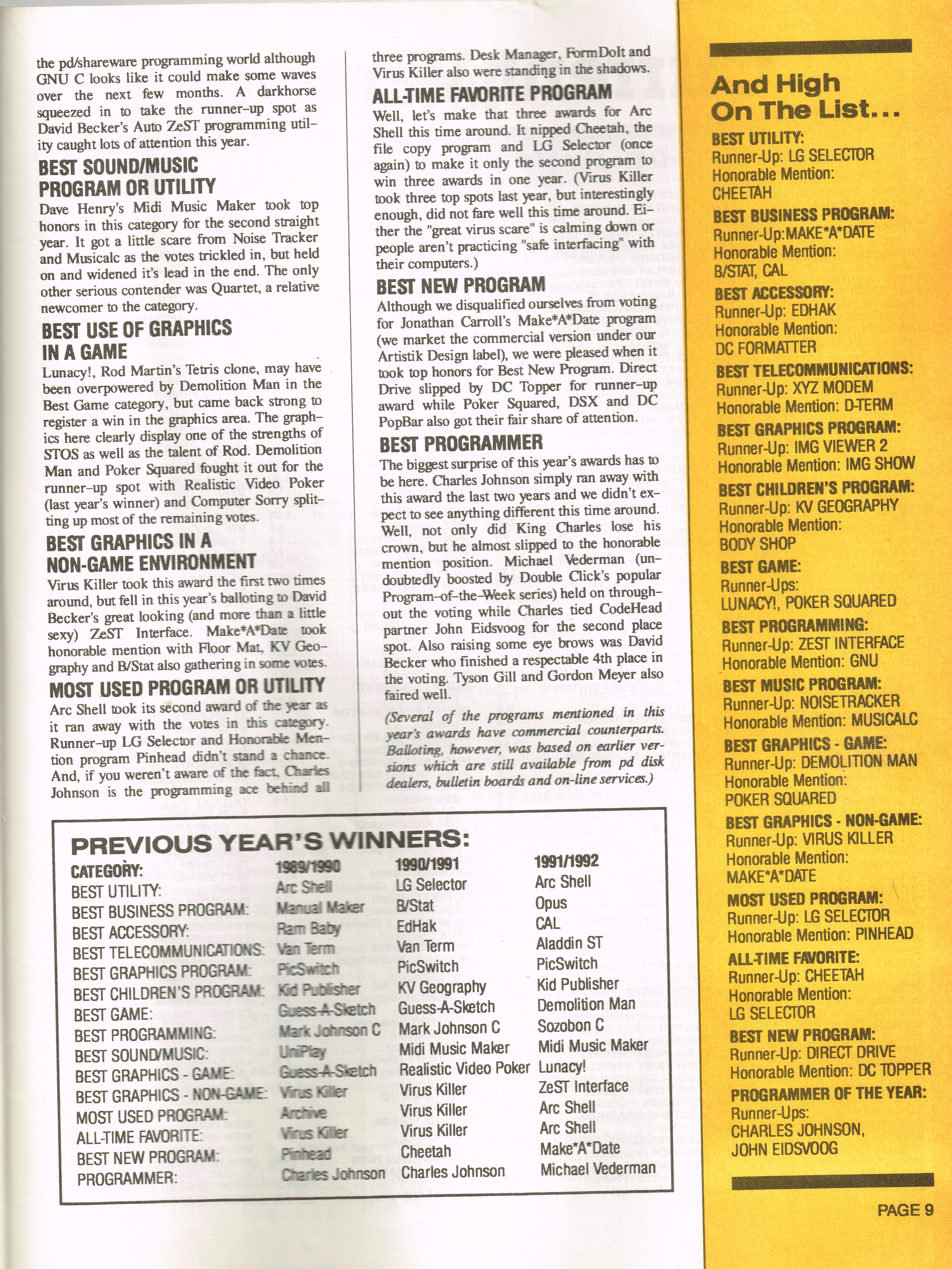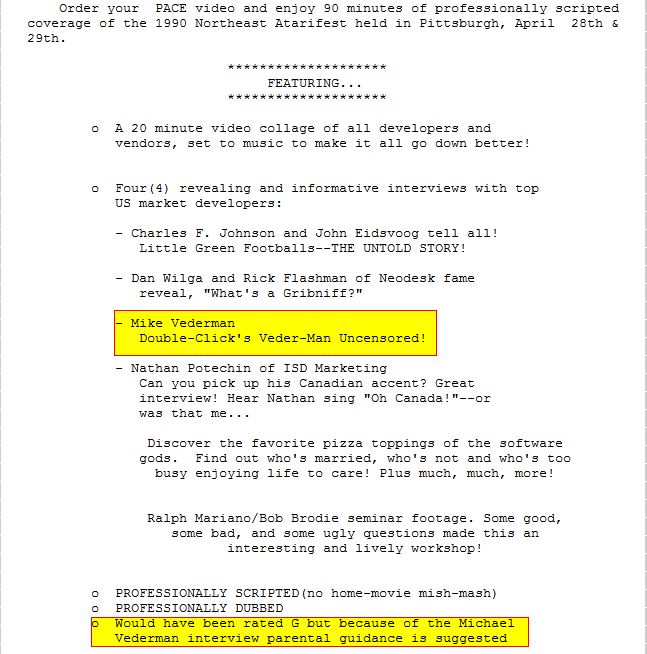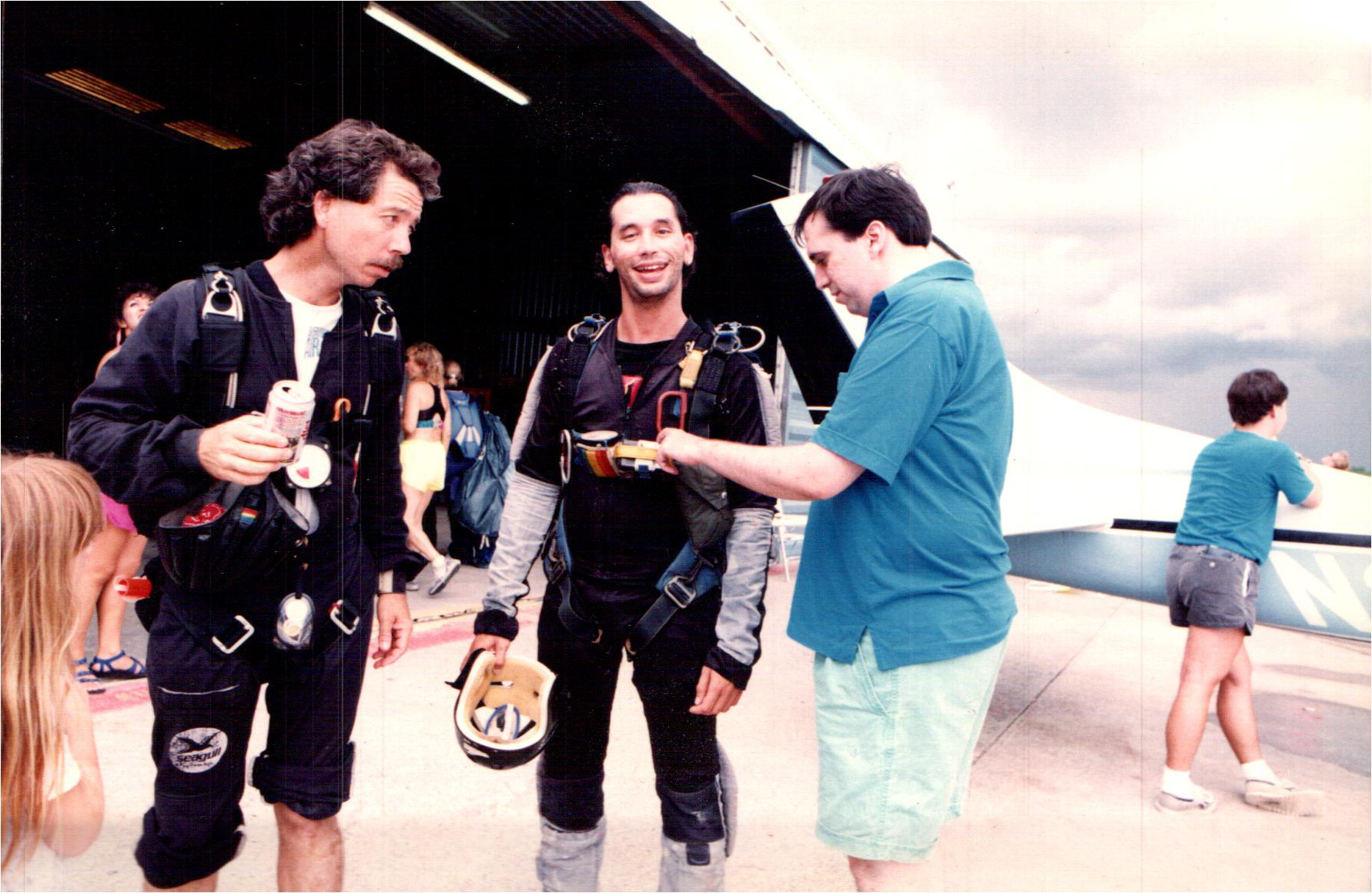 July 1992 - Mike and Gilbert @ Skydive Spaceland Houston - Jump #3
What's an Atari? I 'fell' in love with skydiving once the Atari spirit left me.
Keith Gerdes (Data Diet, Program of the Week [POW])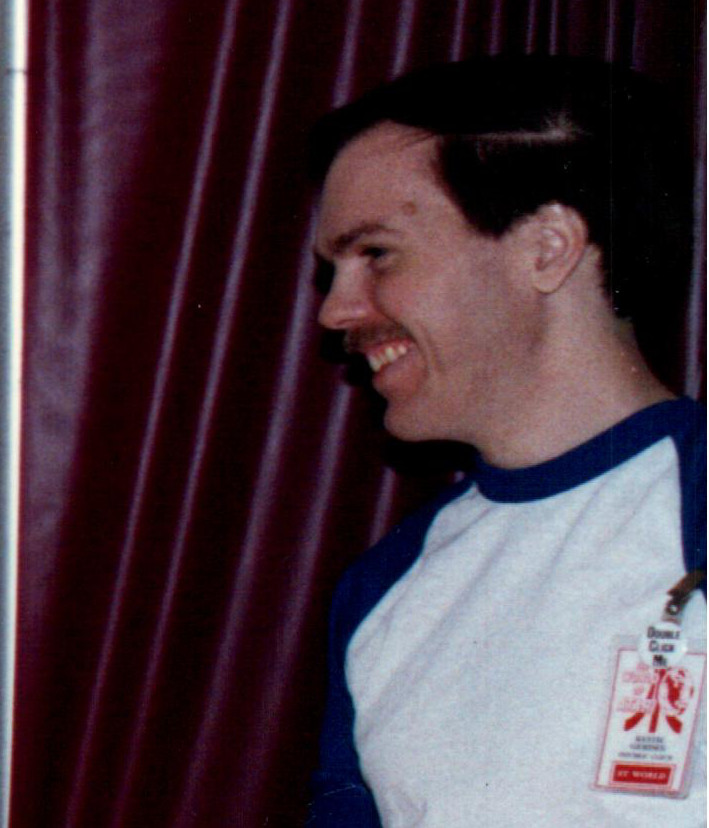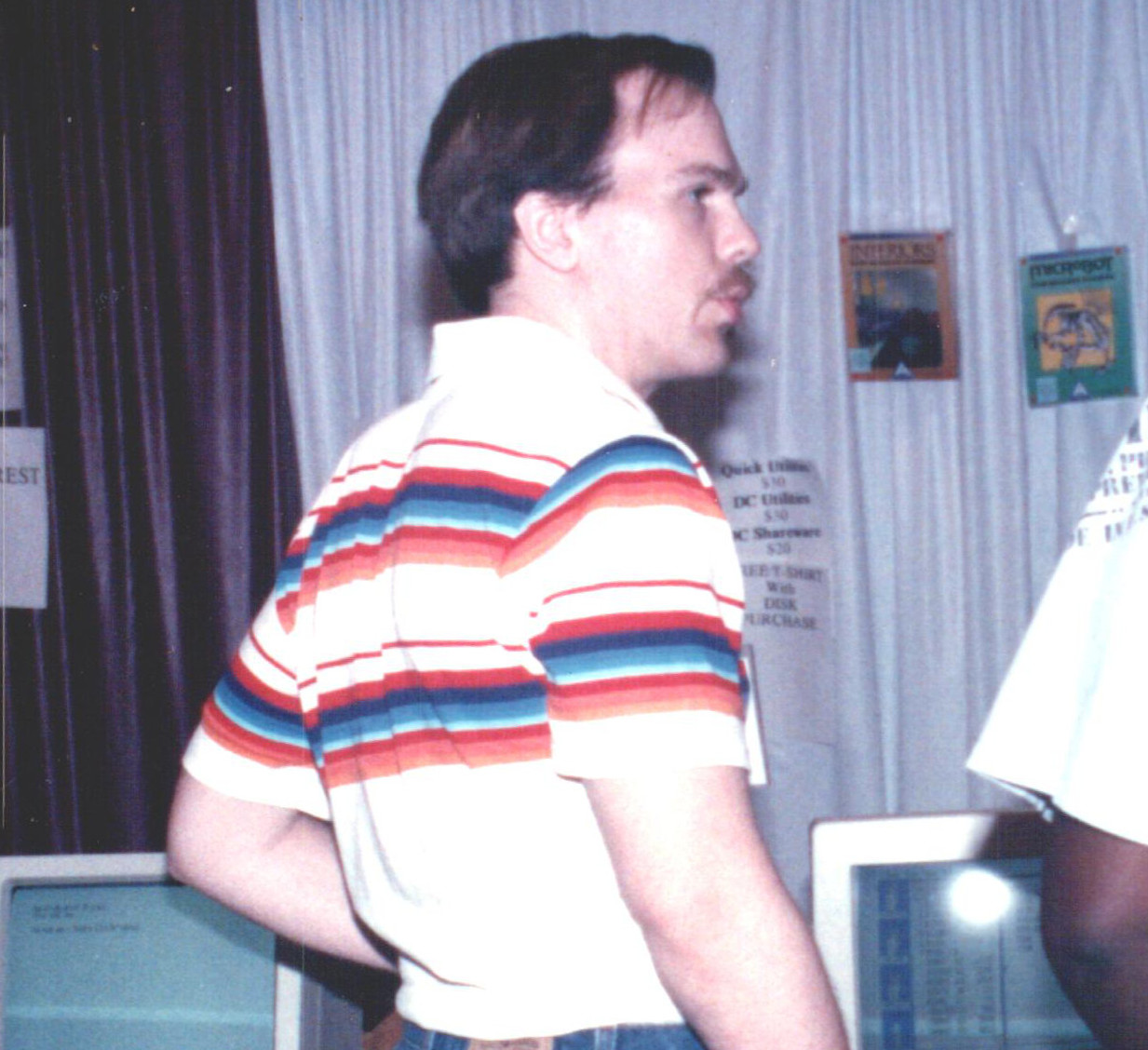 Keith was never an 'official' partner on the Double Click Software team altho he was always programming with us since our first commercial release of DC Utilities and you will see his name in all our manuals. As we gained slightly more success, we actually hired Keith on as a contractor and rented a studio apartment which we worked from and shipped and received products.
Keith might as well have been a partner in Double Click because he had worked as hard as anyone to help build the company. Keith also wrote Data Diet and was a partner in writing the Program of the Week. After the shuttering of Double Click Software, Keith went on to release Data Diet 2.10 which worked on the TT and supported multitasking operating systems like MultiTOS. He also did what he could to console the market about our demise, but the writing was on the wall for Atari and everyone knew it was ending.
Keith does a nice job describing the end days here.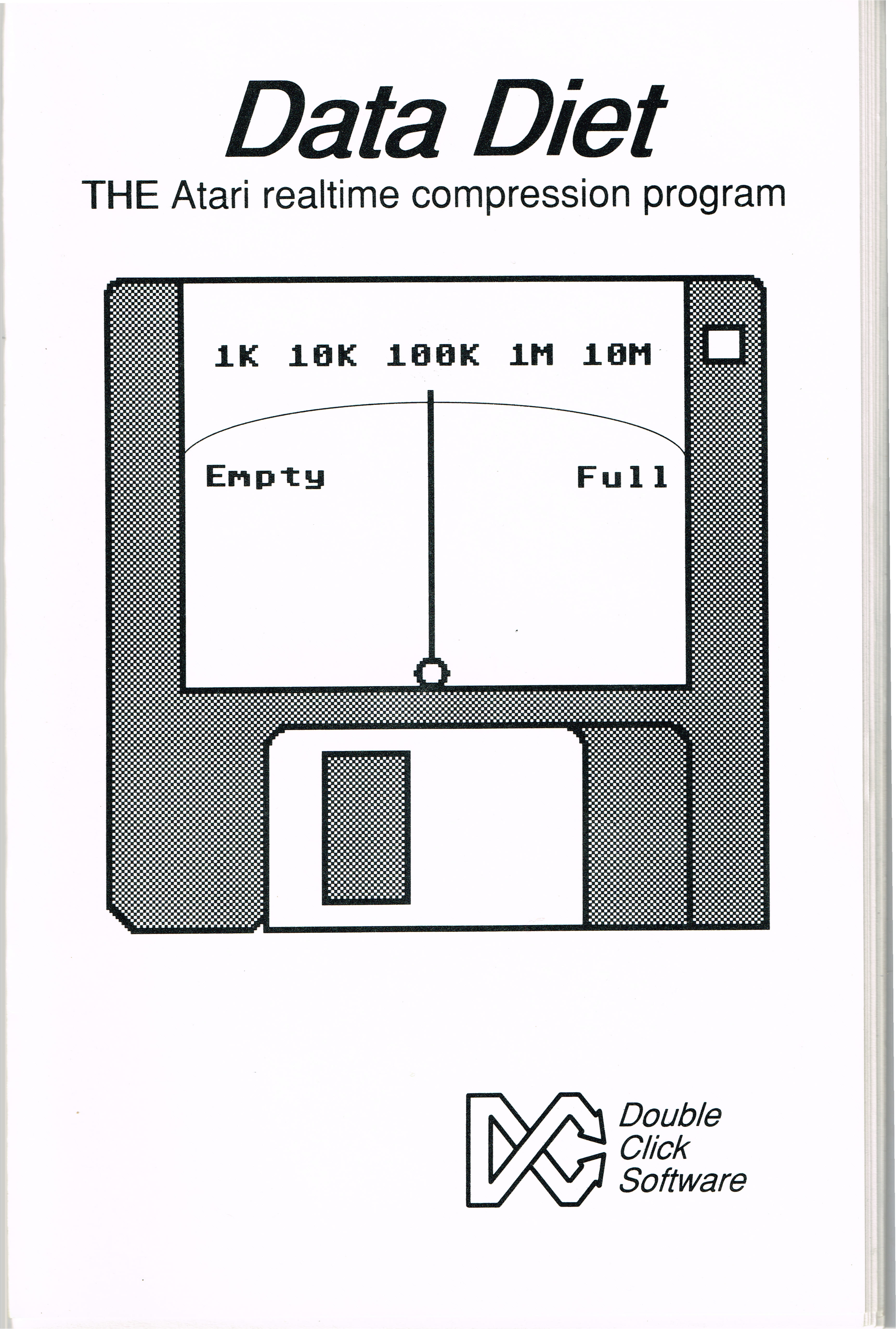 DC Formatter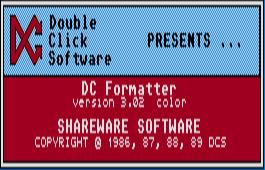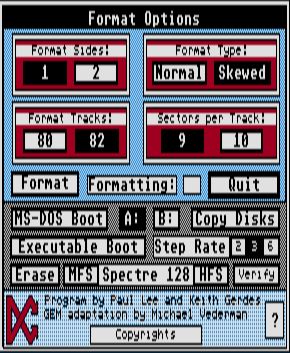 DC Formatter is one of those success stories that just surprises you. For release 2.0 Paul & Keith wrote the back-end, I (Mike) wrote the front-end and again released the program as freeware. It started as a vision for an all-in-one 'fast' formatter that did more than the standard stuff.
We added new disk formats & more features & Magic Sac (Macintosh) & 'twister' [skewed] sector for fast I/O & boot sectors & made it a desk accessory & made a background formatter 'Mystic'. The final release is 3.02 (also referred to as 3.2)
From our DC Utilities 1.0 Preface: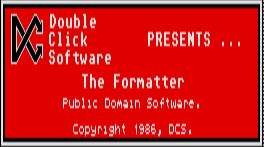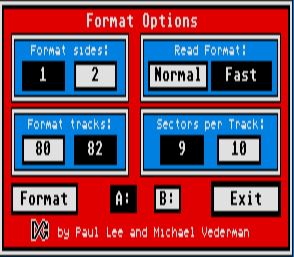 "In the beginning, was The Formatter disk formatter. The Formatter was Double Click Software's very first program for the Atari ST computer. It was released as a Public Domain program, was received very well by the computing community.
"The Formatter was a simple program that offered simple disk formatting, that is all. We upgraded The Formatter to DC Formatter & added disk copying & alternate disk formats. DC Formatter went through several other stages in which we added more features, including an IBM boot sector, executable boot sector programs, verify disk, & more. At relase 3.0, we released DC Formatter as shareware."
"The Formatter" release - Wed Oct 15 1986 19:52:43
Mystic & DC Formatter Aug 1991
'Typical' DC Formatter mention
Shadow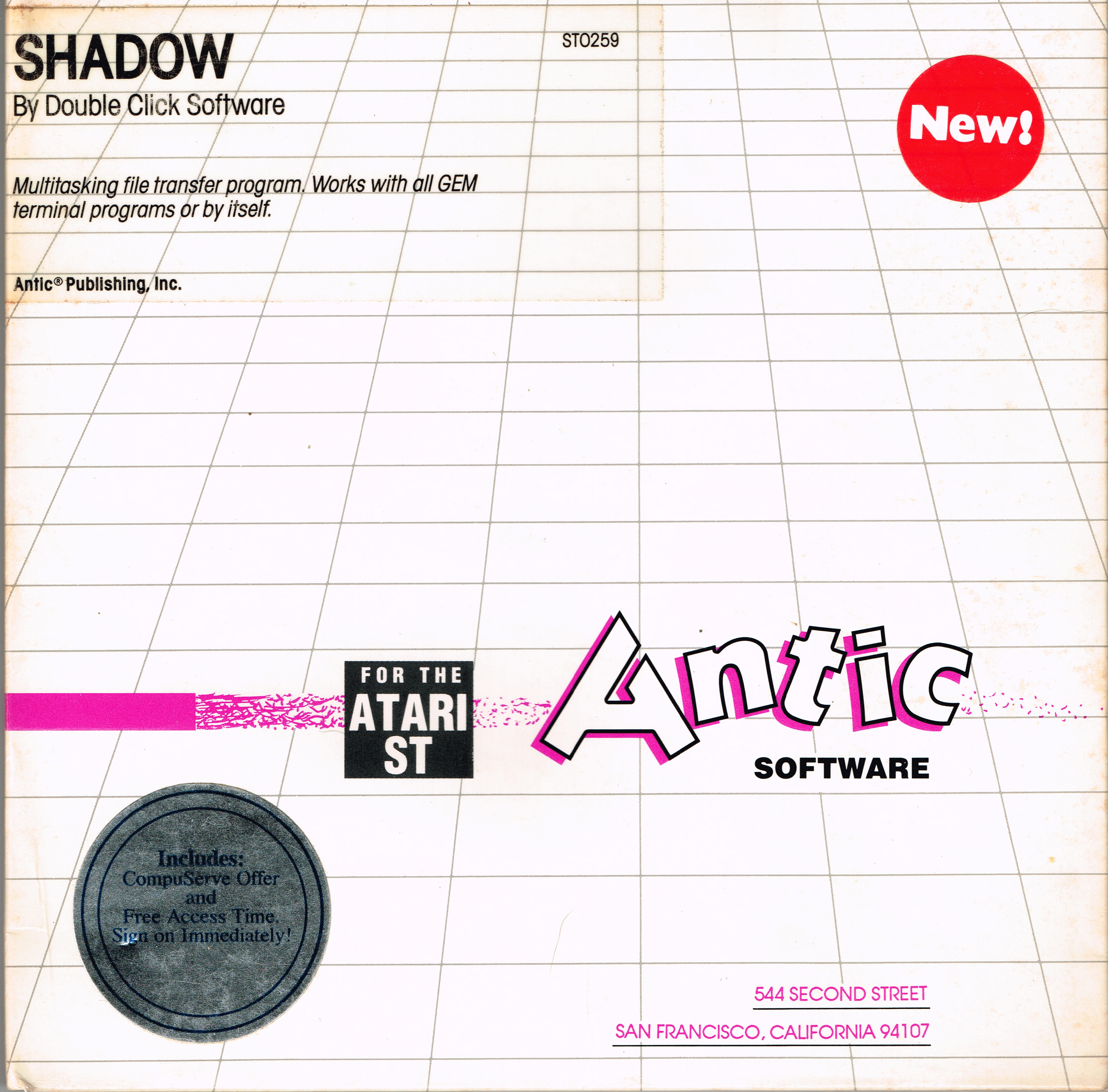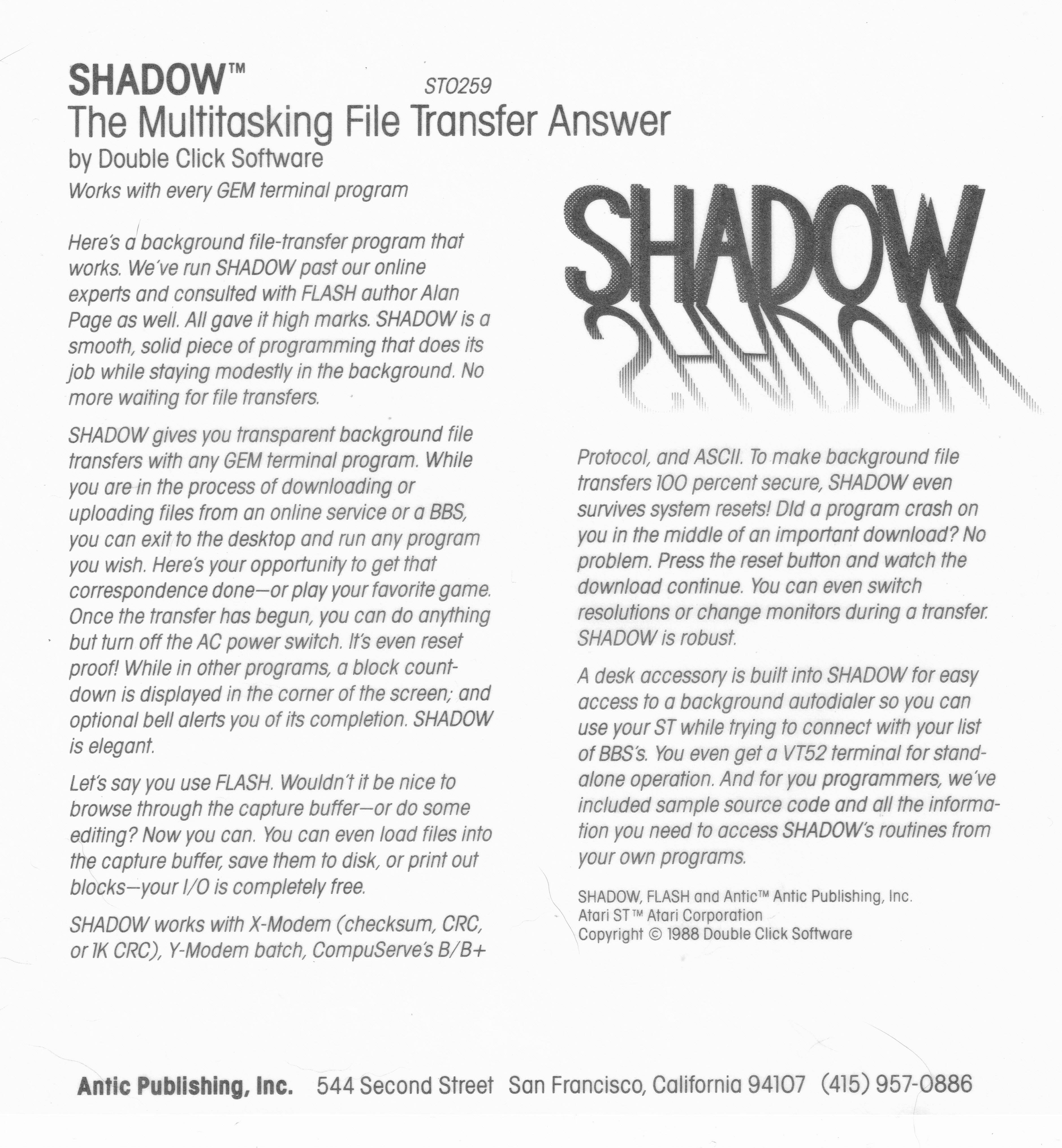 Sold by Antic Software (magazine and software distributor), Shadow was written by Paul Lee who pioneered performing X-, Y- & Z-modem and B-protocol transfers using the UART hardware interrupt for each character. Shadow was the first background file transfer program for the Atari ST and remained the only program to perform TRUE hardware based multitasking. The desk accessory front-end was written by Michael Vederman and provided access to Shadow configuration, operation, status and features.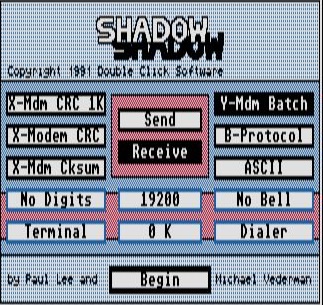 Shadow review (Jan 20 1990)
DC Utilities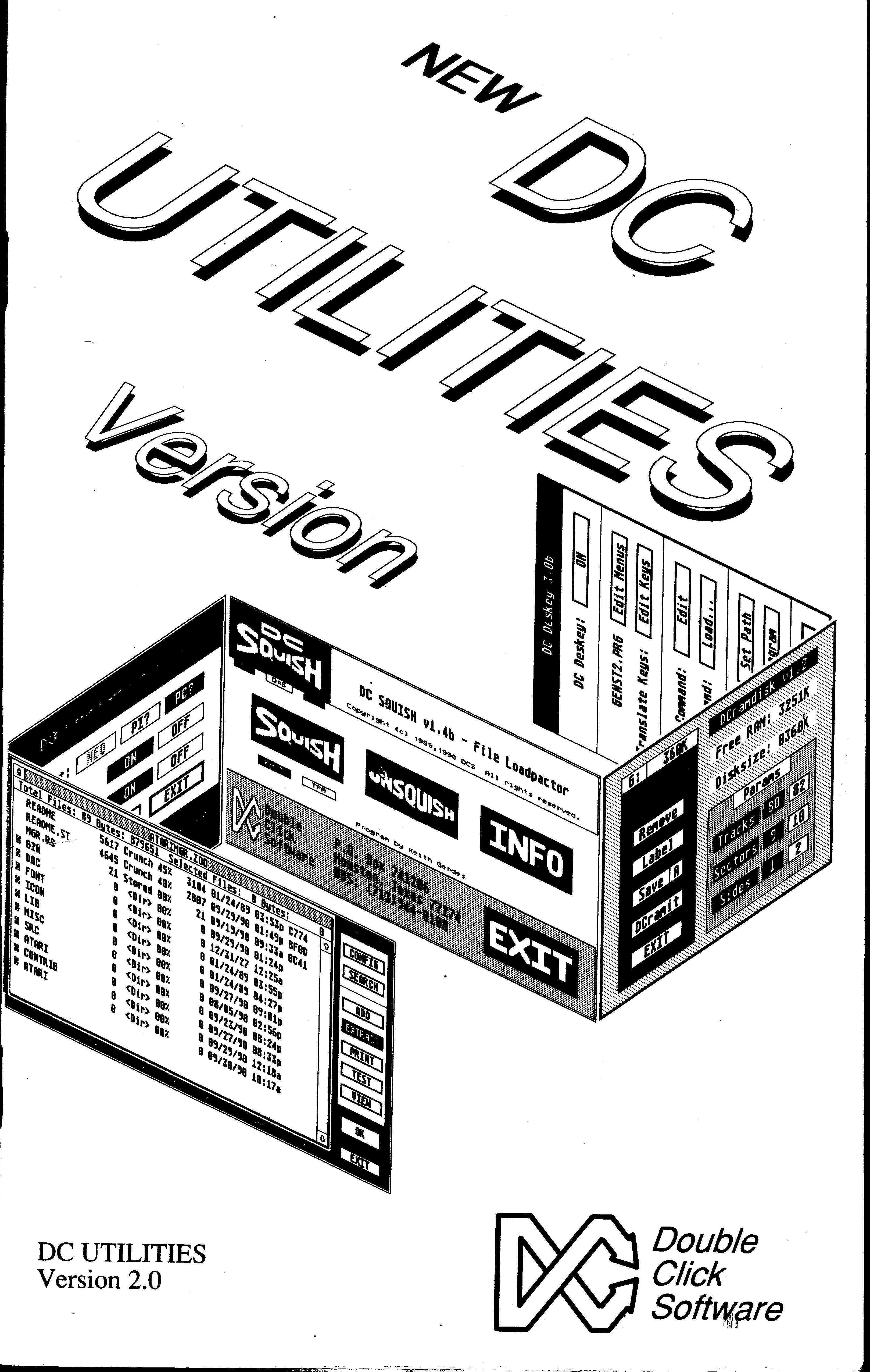 DC Utilities was an obvious package for Double Click Software to produce. Being in the golden age of computing, the features of operating systems back then were very meager and there was a tremendous market for better and faster ways to do things. DCS was one of a few companies to really make a name in the Atari ST utilities market.
After banking our shareware money and Shadow royalties we were able to produce DC Utilities, our first commercial release, and were given front page status in the most important EA Brown catalog, which was, at the time, one of the most influential and predominant software distributors. (Please see the PDF ad). This was our first major distributor signing up to sell our products which was a great boost to our image and self esteem and enabled us to release more in the future.
DC Utilities Review (Atari Interface Magazine) Dec 1989
DC Utilities Review (START [US] Magazine) Aug 1990
DC Desktop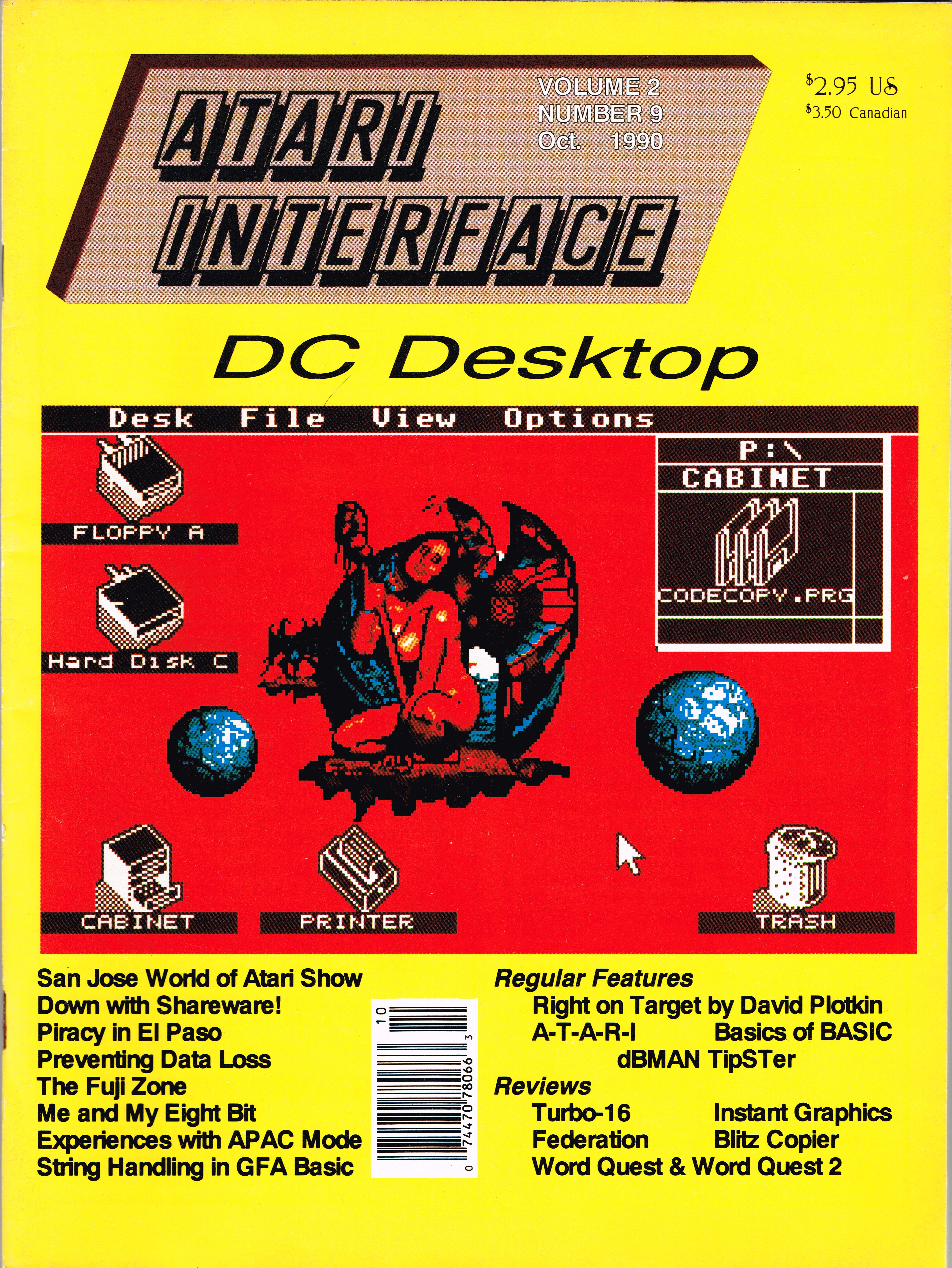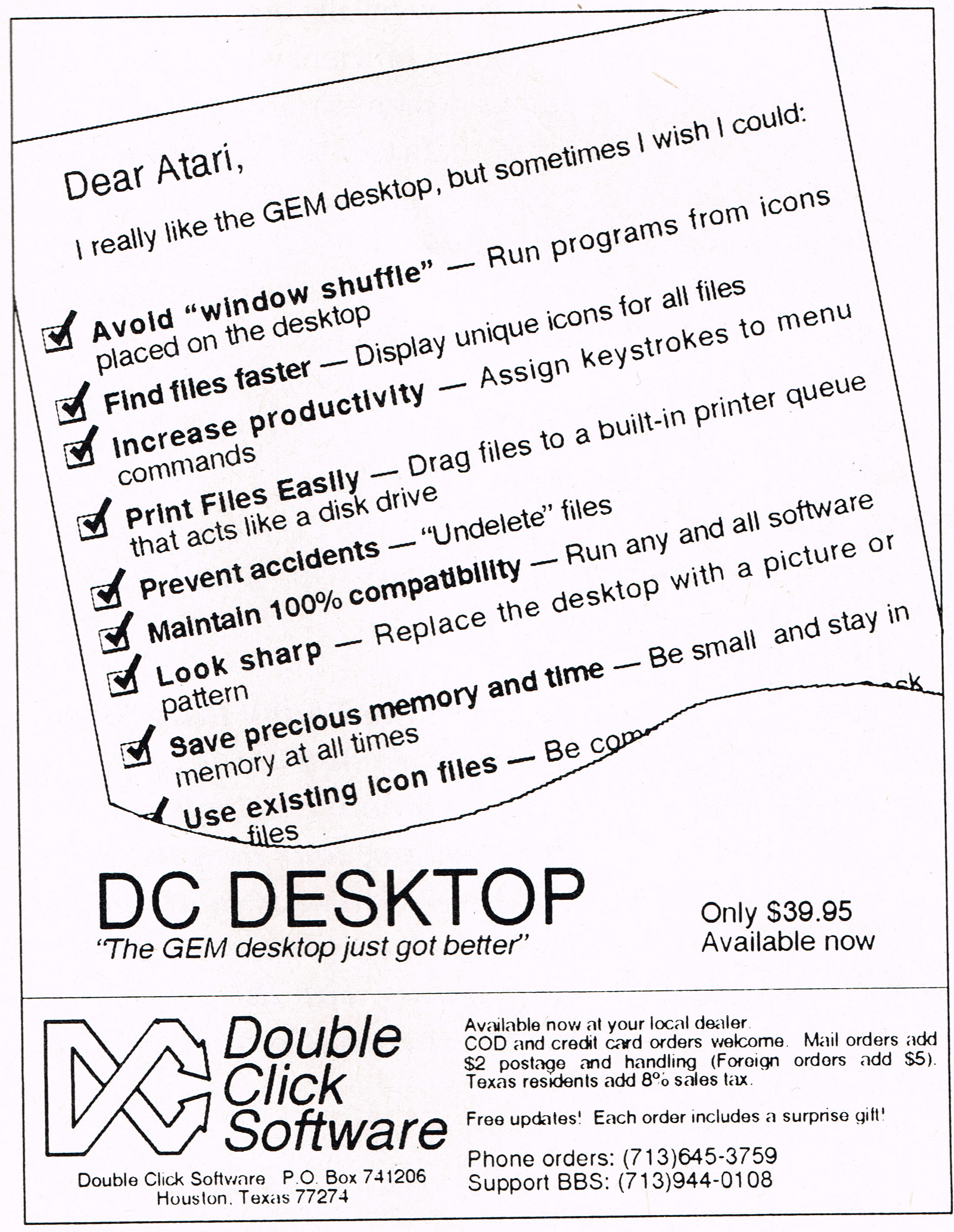 DC Desktop is a set of programs to allow for a better desktop experience, enhancing both visual aspects and productivity. The GEM desktop was not designed to be enhanced but being the clever hackers we were, we figured out how to add features seamlessly and had tons of fun programming it and showing it off at shows.
Our second commercial software release, DC Desktop entered the battle of the Atari ST desktops which all attempted to add much needed power user functionality to improve the user experience and productivity. DC Desktop was the only desktop which enhanced the existing GEM desktop instead of replacing it. For that reason alone, we were 100% compatible with all programs while the other 'shells' had issues with programs here and there which affected customer user experience. We were also the only desktop which was completely modular so you could pick which features stayed resident and which ran on-demand.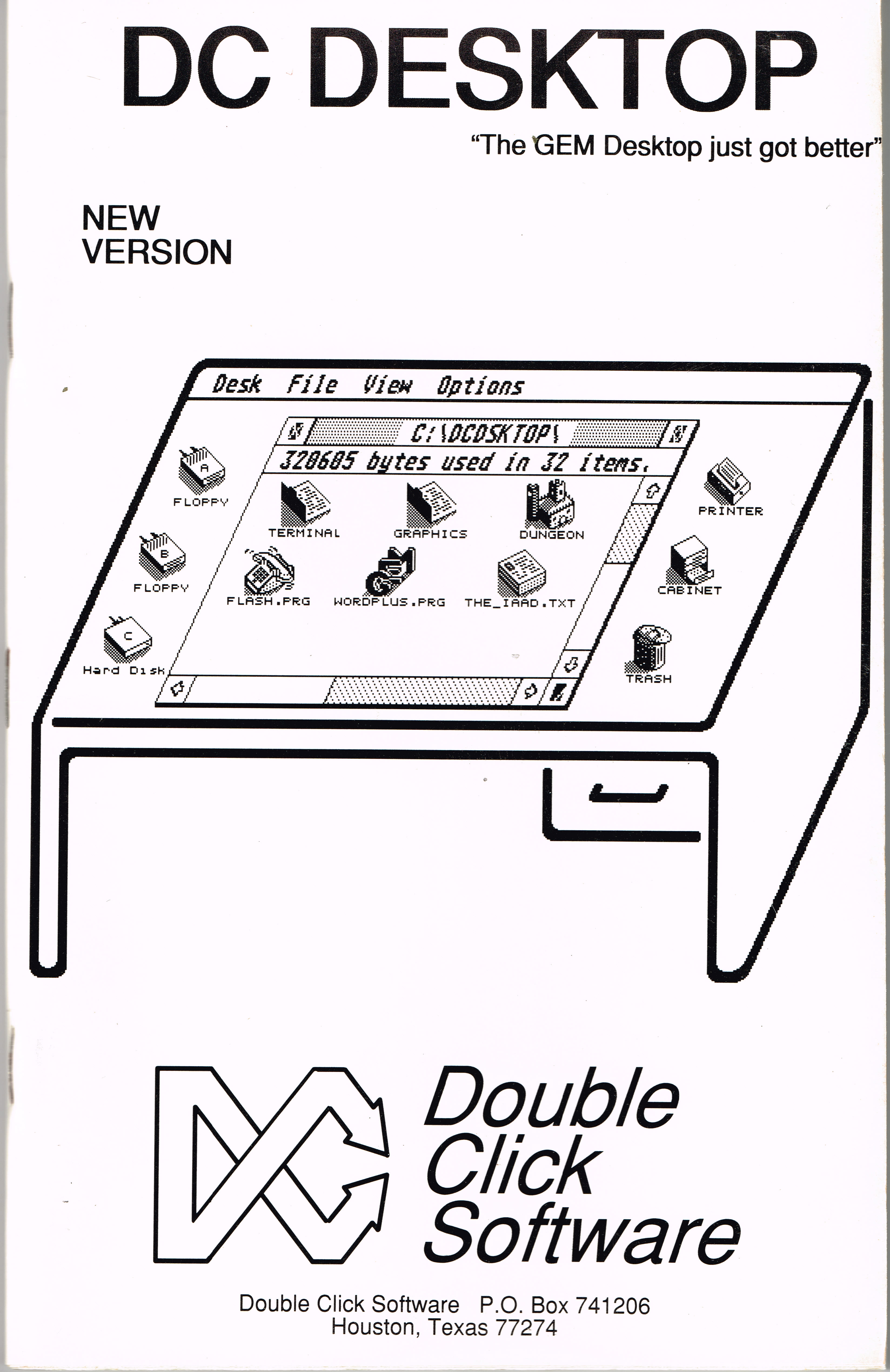 DC Port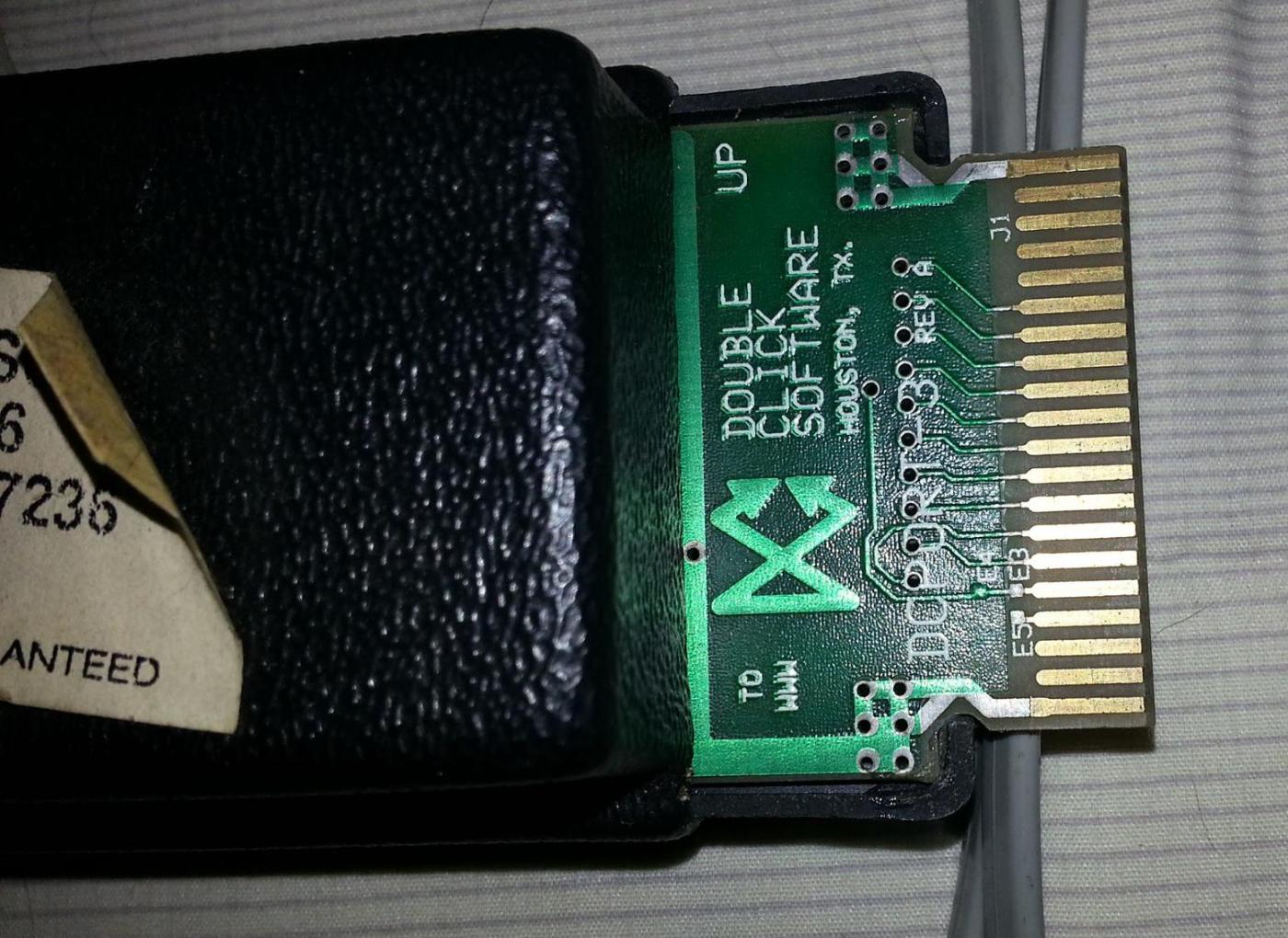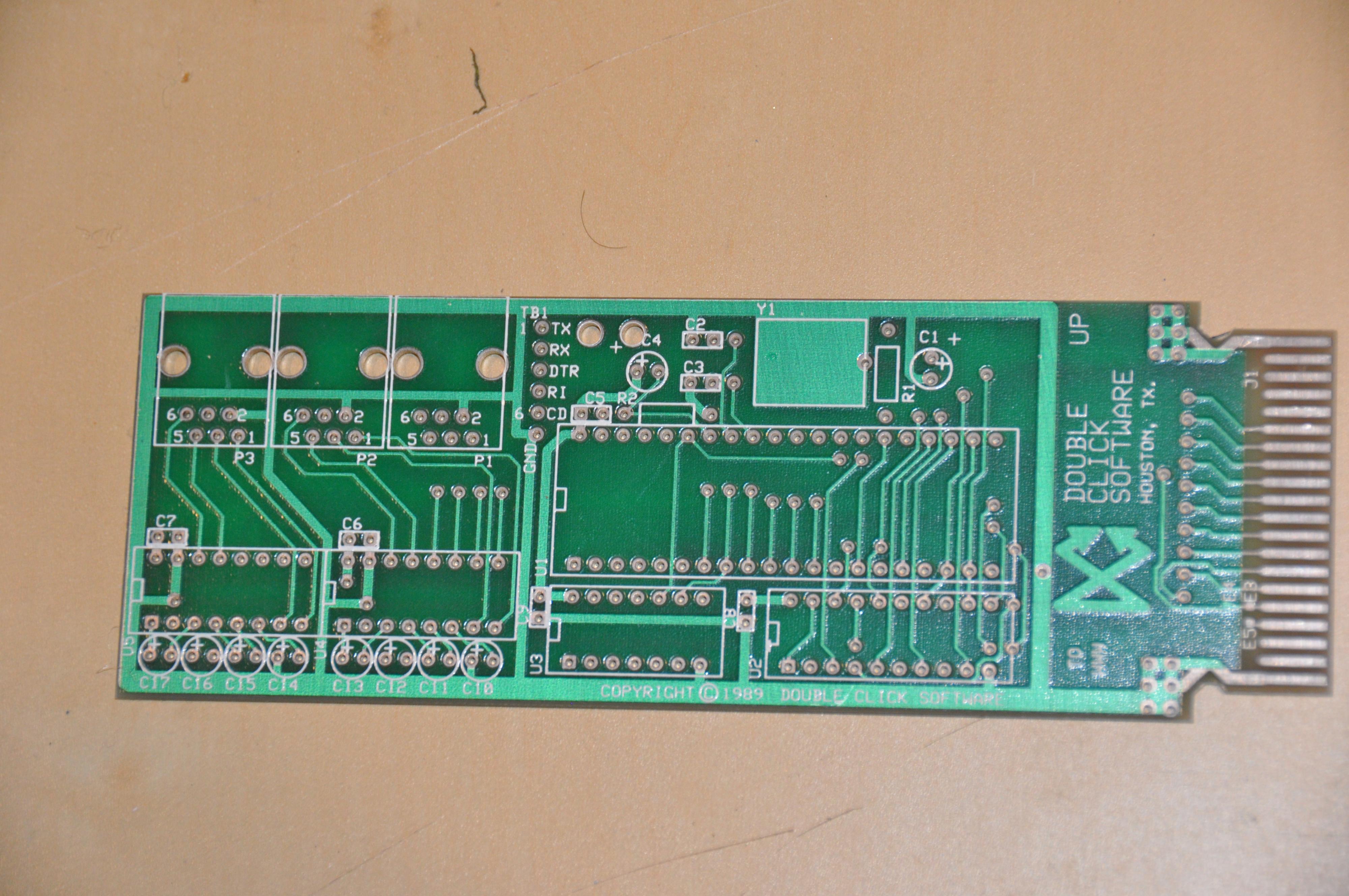 The First and Only and still the first and only serial port expansion cartridge for the Atari ST 'read-only' cartridge port. The genius of Gilbert Callaghan, the DC Port added 2 or 4 serial ports. The 3-port was standard, the 5-port was hand built by cannibalizing a 3 port board, super gluing the parts together and then wiring in two more ports. Each DC Port was hand built with TLC and certified by either Gilbert or Mike.
Gilbert was able to produce a prototype cartridge using some hobbiest solder boards and it was just thick enough to to fit in the cartridge port. Proving that it would work and using the cash we had been saving from our other sales, we took the dive and got boards made, a vacuform aluminum mold made and got 100 plastic cases.
DC Port seamlessly integrated with an auto folder program. This made adding DC Port extremely easy for programmers, altho designing a BBS to handle more than one serial port communications was more challenging. Still, we got Michtron BBS upgraded to 3.0 (Tim Purves) w/ DC Port support giving the Atari community the only multi-line BBS option which didn't involve a PC. Later, as well, STalker did for a multi-line terminal.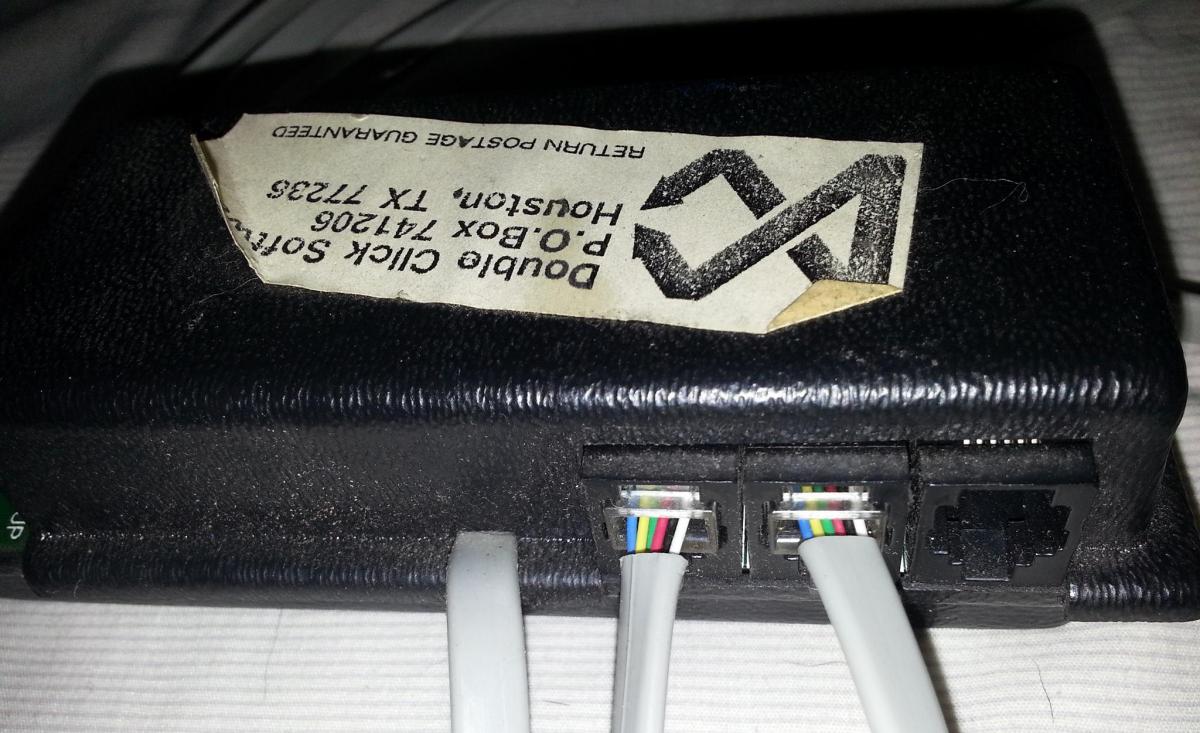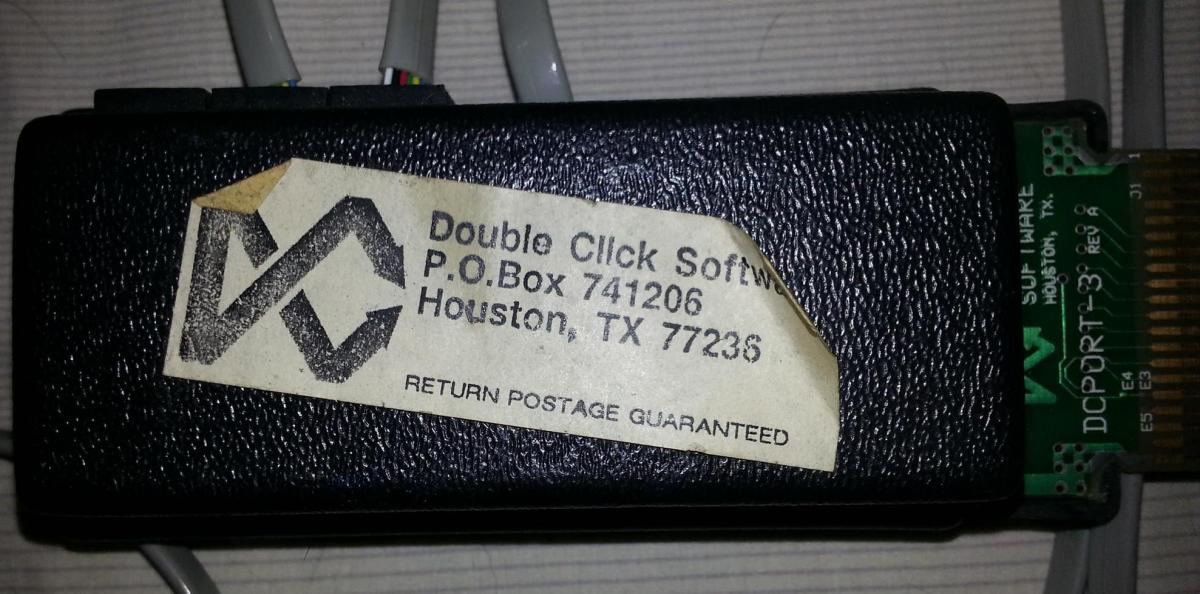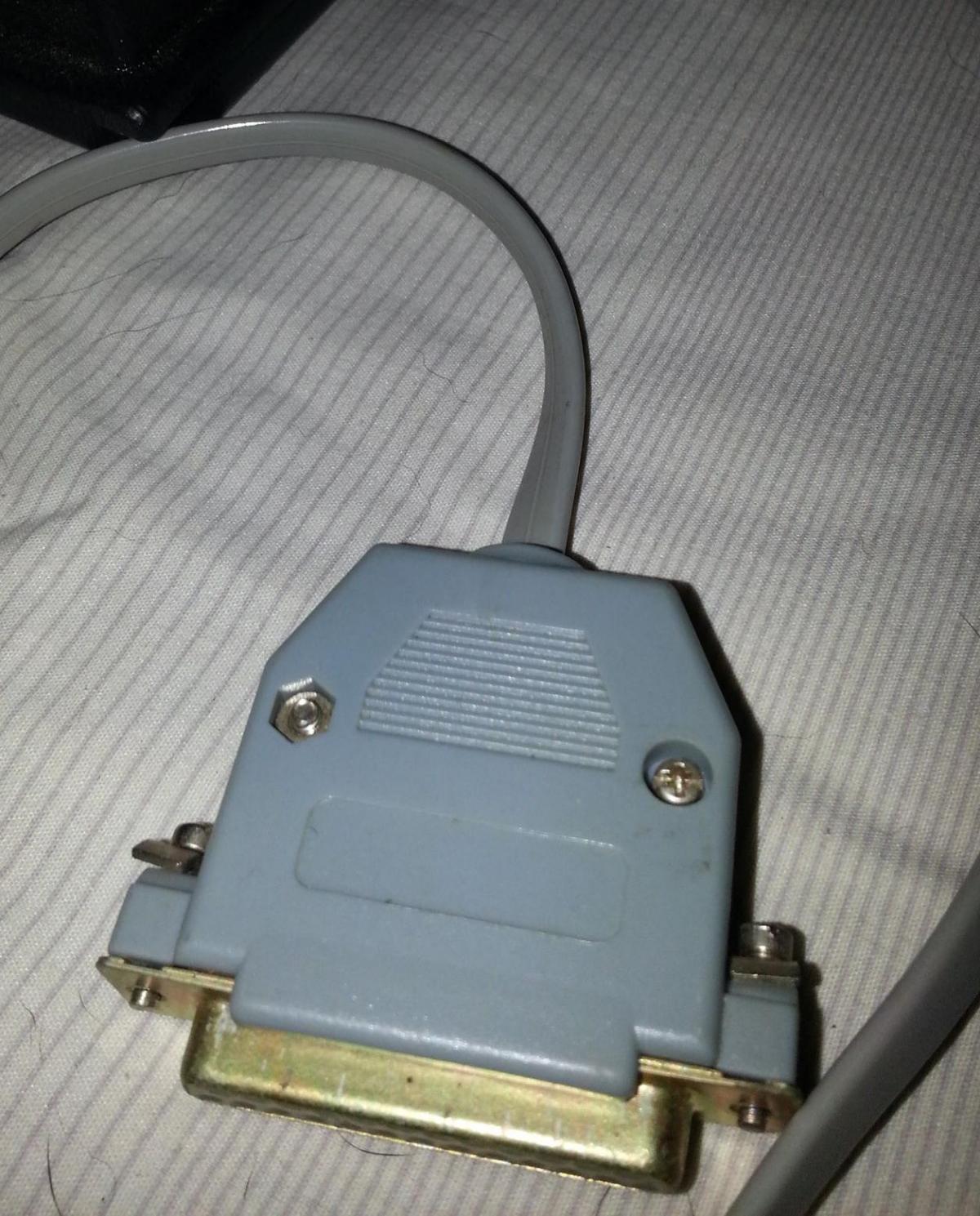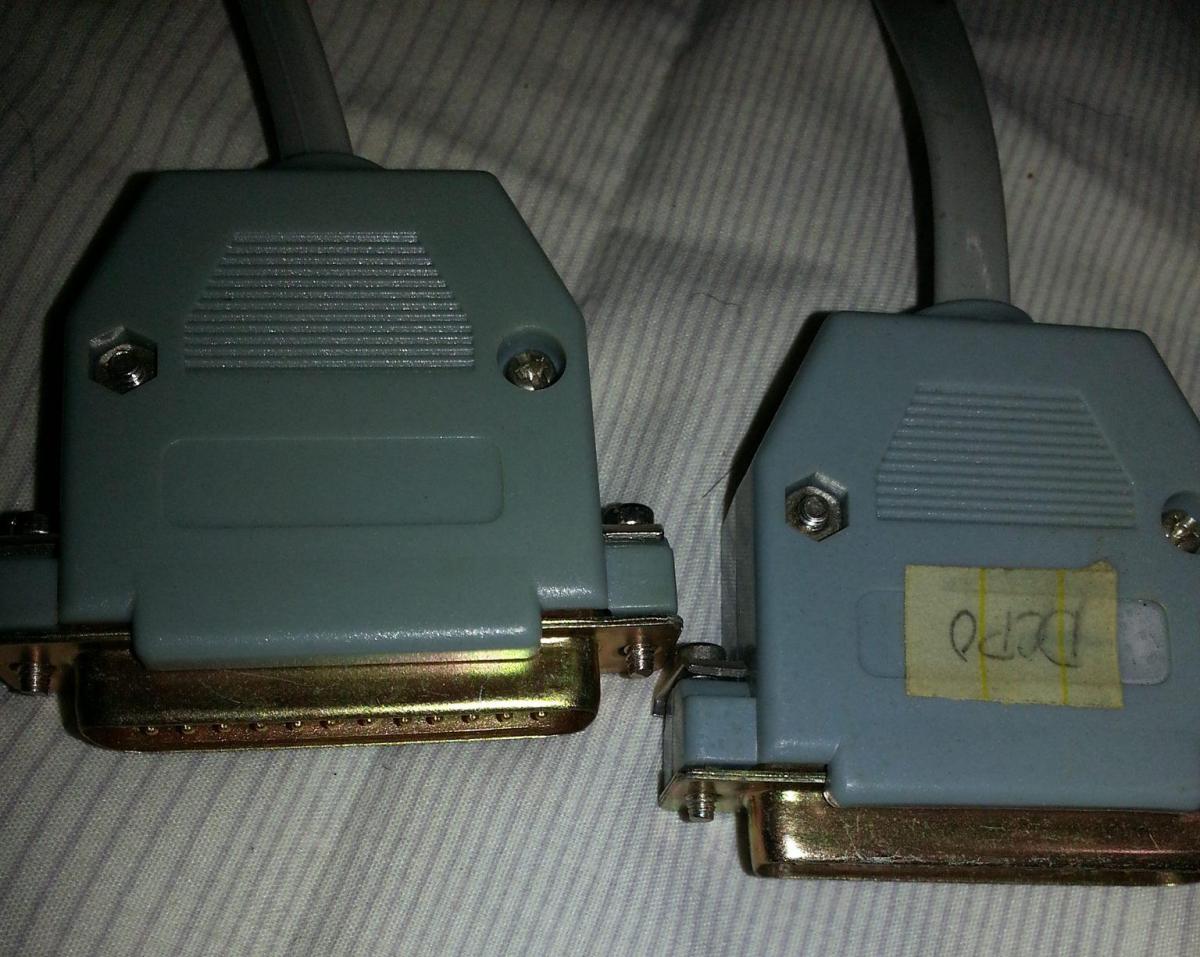 comp.sys.atari.st discussion about DC Port lack of rtc/cts
DC Port tease announcement (START [US] mag) June 1989
MichTron BBS 3.0 Announcement May 1990
DC Shower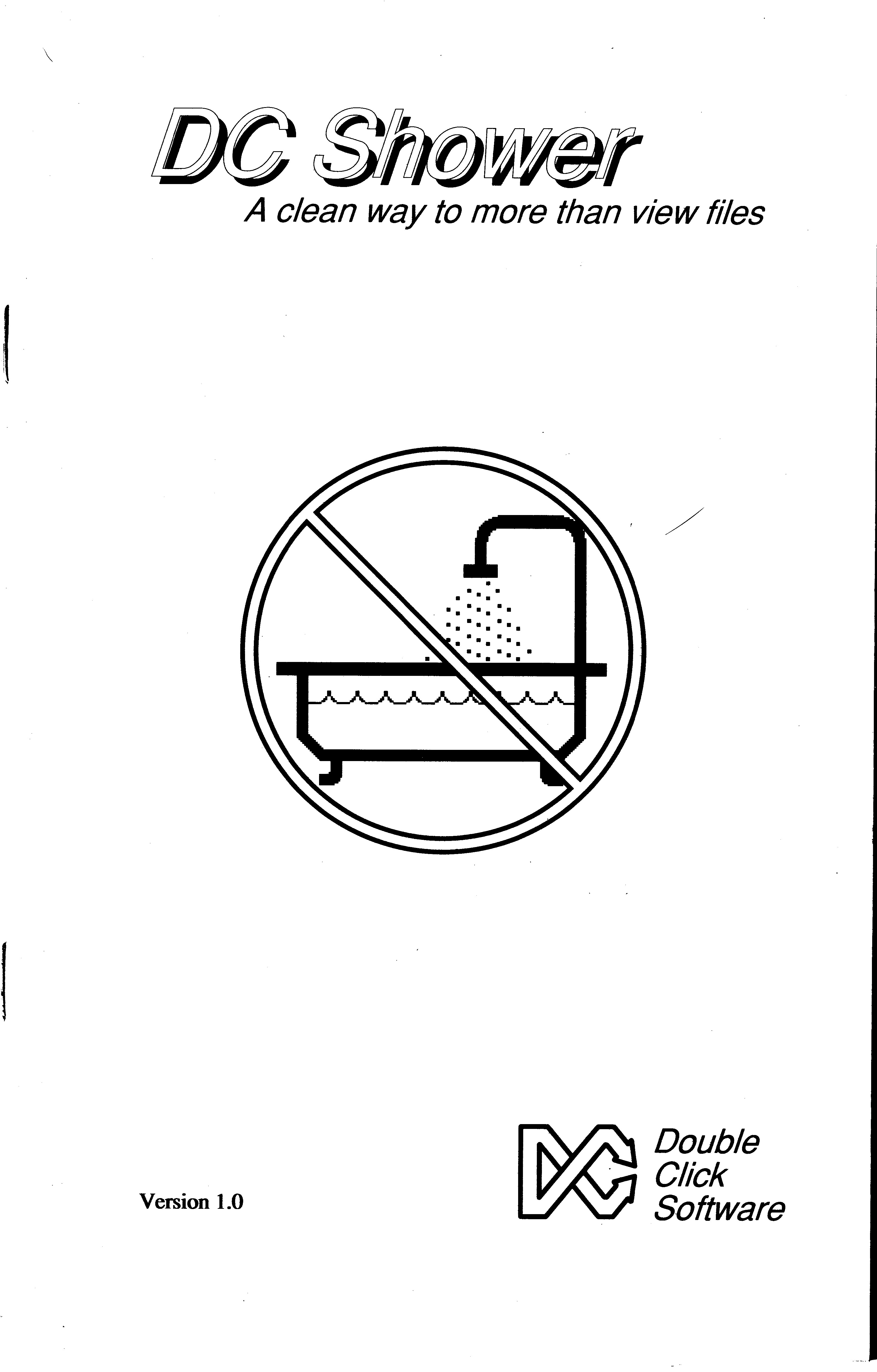 DC Shower was another surprise hit. We had no idea that we would have tapped a hidden need in the desires of users to have a better way to handle files of all types simply by double-clicking the files. We take it for granted now, but back in the golden age of computing, even the simplest of enhancments to productivity was deemed worthy. We managed to finally add a HEX viewer, sound, picture, LZH, ARC, ZIP and ZOO viewer/extractor as well as the original text viewer DC Showit (which was released as a freeware tease).
Originally designed as part of the DC Desktop, we kept getting feedback about how people loved it. We then decided that it would be best to separate this out for people who preferred some other desktop (or none at all) and so this became a stand-alone product.
Data Diet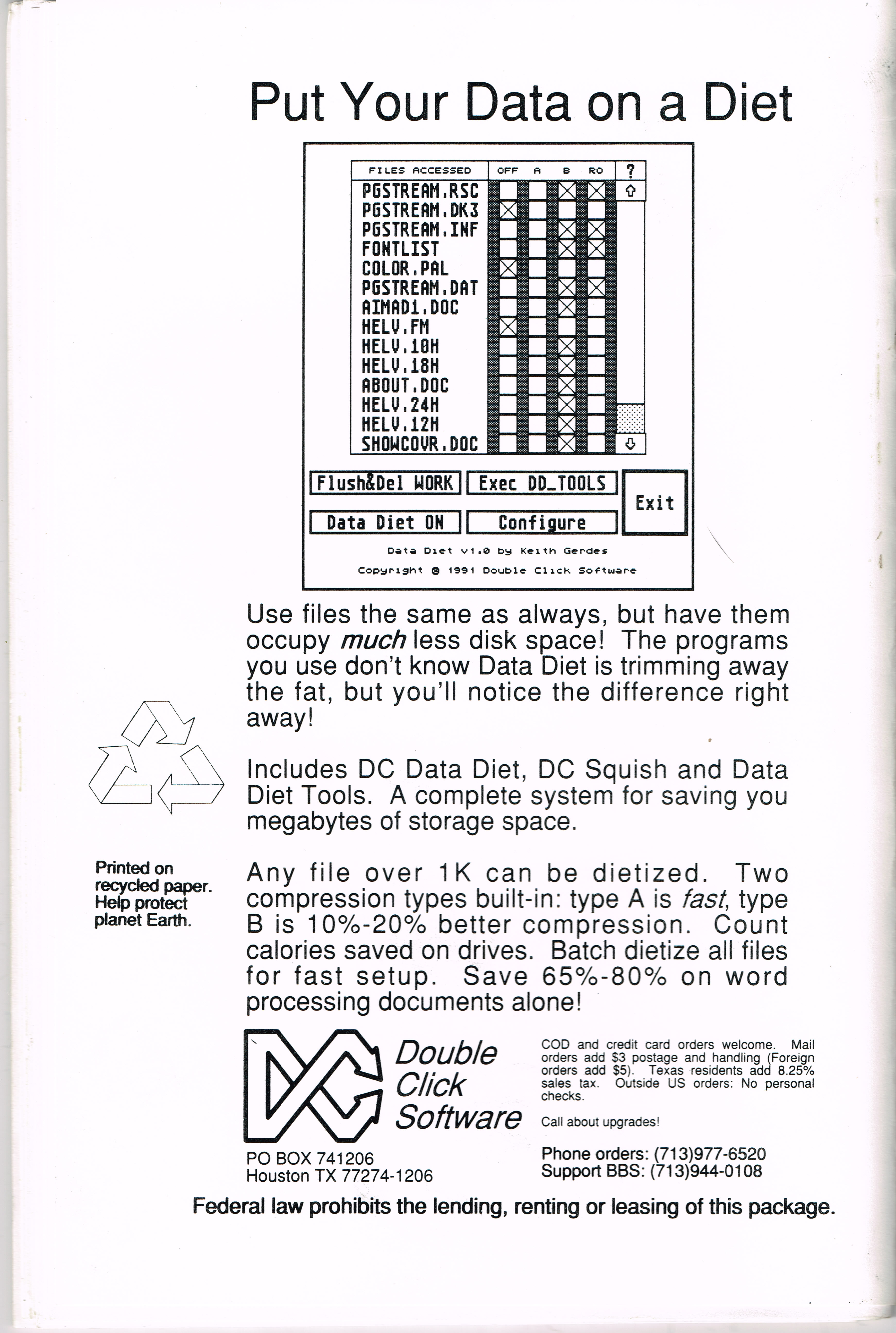 Data Diet was developed exclusively by Keith Gerdes after much success with the DC Squish executable program compressor. Developed over the course of 1 year, Data Diet gave users the ability to compress all the contents of their drive, incudling executables, but not have an alternate file system [compress in place is what Windows uses now].
Data Diet got named after a 'Name That Program' contest we ran. I can't recall the Runners-Up names, but love the name and it lent itself to some fun terms and naming conventions in the manual.
After Double Click closed doors in Dec 1992, Keith took over support of Data Diet and released up to version 2.10 with version for the TT and MUltiTOS and other multitasking operating systems of the time.
Program of the Week
June 19 1991
OK, let's settle this once and for all. Here is our commitment: We at Double Click Software will write one (1) FREEWARE program per week for one (1) year.
Officially, we announced our intentions to the known universe in February, however, we were already doing this from October 1990. To date, we have well over 26 programs released.
If you are on GEnie, you can do a search on the name DOUBLE-CLICK and find out for sure that we did start back in October 1990. On Compuserve, just go to Atarivendors area 13 and do a DIR on our library (13) and you will see nearly four (4) pages of programs.
When we call it quits, is up to us (hee hee). Officially, we have it marked down on our calendar already. However, no one knows whether we could stop 'cold turkey.'
So, yes, we are regularly releasing a program each week to: GEnie, Compuserve and the Double Click Software BBS
and the InterNET (altho the moderator is _extremely_ slooooooow!!! at releasing) I know that they haven't been released on the internet regularly (we just sent all of them to him about 6 weeks ago, and have been sending him one a week since then) from the moderator.
So... We will have nothing to do with 'nay-sayers,' because we are doing it, and have been for almost nine months already. :-) Any other questions? :-)

- mike vederman

We talk about the POW here (search for Program of the Week)
Hover over item for info
DCADUMP
DCBITSET
DCBOOTIT
DCCLK33
DCDIRDMP
DCDMASPL
DCDRPDTR
DCDSKINF
DCFLIGHT
DCFLPCFG
DCFMTACC
DCINVERT
DCLCKRTC
DCLEFTY
DCLFTARW
DCLICKME
DCLITOFF
DCMAXTRK
DCMENU
DCMOMETR
DCMOUSER
DCMSAVER
DCMSHIFT
DCMSTICK
DCNOALRT
DCNOSTIC
DCPOPBAR
DCPOPBR2
DCRESERV
DCRTCALL
DCRUNREZ
DCR_TMAG
DCSALVAG
DCSHOHEX
DCSHOW11
DCSLICK2
DCSTUFFR
DCTOPER2
DC_BHELP
DC_CPX
DC_CRC
DC_FF
DC_FKEYS
DC_GTP
DC_HOMEY
DC_JCHAR
DC_MWRAP
DC_RT_DC
DC_SEA
DC_SLICK
DISKSTAT
SNOWBALL FIGHT
The (in)Famous Double Clicker (DC)
Paul demonstrates
So, after becoming 'successful' and realizing we were going to be going to shows, we decided we needed to attract people to our booth with freebies and other fanware. I picked up a catalog of brandable items ranging from coffee mugs, to pens, to caps, to calendars. Nothing was working until my father suggested to look for a
cricket clicker that they used in WW2.
The 'magic' behind the clicker is both a) it is a double clicker, it clicks twice and b) it is the ultimate idle hands toy. All over the shows you'd hear the clickers here-and-there. Even comptetiors/vendors just standing in front of their booths were clicking them. Codehead Software, at one point, created a 'Double Clicker Fixer' service to remove the metal tabs.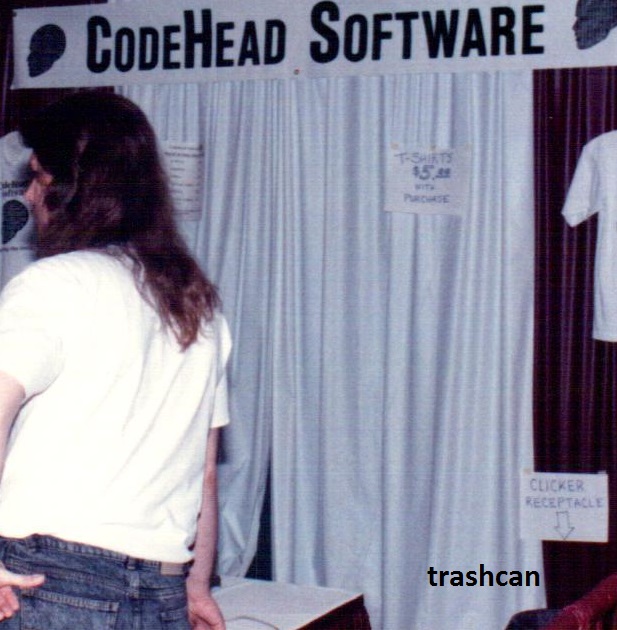 CodeHead Double Clicker 'receptacle' World of Atari (Dallas)

It was an ingenouus marketing tool that worked at all levels and came naturally as a consequence of the name Double Click. Except one polite London kid who asked what's' it for. :)
Read the
Computer Shopper article
to learn about our battle with the Codeheads at the World of Atari (Dallas) show. These are now called 'dog clickers' which also happens to be 'DC'. And so, DC lives on. :)
Regrets
What is life without regrets. We have HUGE regrets that we weren't able to deliver on our last two products which may have also been our best: The Game Workbench and STorm.
Hands-down, The Game Workbench (created by Dave Baggett [who later sold a company to Google for $700 million] & his Scottish partner Neil Forsyth) could have revolutionized end-user game development on the Atari platform, but there were huge hurdles ($$$) bringing it to market in the last years of the ST platform. We actually flew Dave to Sunnyvale Atari headquarters and met with one of the Tramiels, face-to-face, walked the halls of Atari HQ and made our pitch. Atari was dispassionate at best. At worst they wanted a change in the way the program was designed (arguable request) but it was beyond what was resonable given the computer and company were in, really, the last 2 years of life.
We did what we could for The Game Workbench, even sent our paid-for DCS developers Falcon to Scotland for them to use to improve the software. This was a huge thing to do, send a dcevelopers Falcon. We were committed, but just ran out of money (poor students, all of us) and I got into a car wreck and had to get a job to pay off my medical debt. (Life later had more in store for me, Dead Mike)
The reference manual was going to be huge and beyond what we could write as the developers and tried to get writing help on
comp.sys.atari.st
. We worked on it, but it became apparent that, with ST sales dwindling (gone), the investment required, lack of resources, we were not going to pull this off. And no other companies in the Atari market were really signing up big ticket products, in fact, companies started leaving the Atari market as they developed PC and Mac software instead. Antic software had already collapsed and so were others.
STorm, the logical sequel to the most popular terminal program, Flash, written by Alan Page, was going to revolutionize the telecommunications market again. We paid Alan an advance to develop it and were working on box designs and the manual. Alas, the market pretty much dropped out from under Atari developers (no distributor sales even!) and amazing products like this came too late in the life of Atari and, we all know, Atari HQ suffered from tremendous management problems and internal 'Tramiel family' conflicts.
In the end, we left the market, sadly. Our hearts sunk and I was so dismayed with the experience that I didn't own a computer again for over 3 years and sold all my Atari equipment to the then president of the Houston user group (who? do you still have my stuff? can i [mike] buy it back now? 25 years later? :)
Today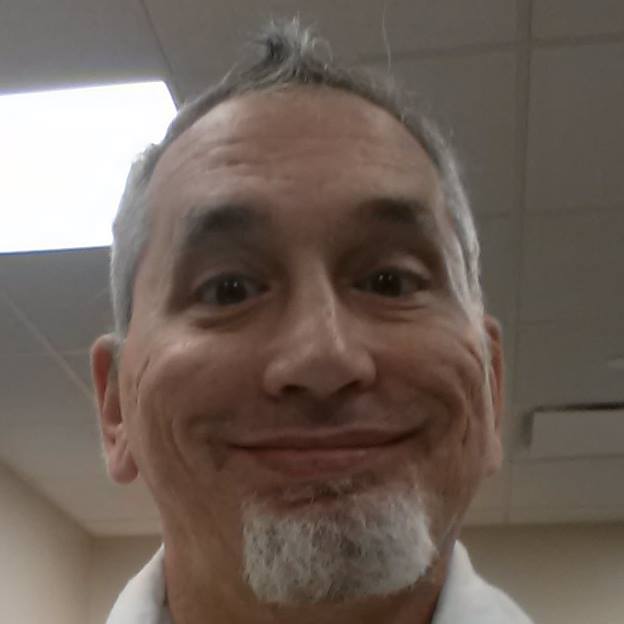 Sadly, in 2003 we lost Gilbert to a heart condition and he is sorely missed and thought of often. He was amazingly great and brilliant.
Paul is married with a lovely wife and three beautiful children (two girls & one mini-me [boy]).
Michael leads an interesting single life, wandering the Earth, well, not too far and celebrates his annual death day every August 3rd (check out
The Dead Mike Home Page
).
Paul and Michael are still programming. Paul still has all his Atari equipment and has even bought after market add-ons to keep them 'alive' altho he turned to Sega and 5200 programming for fun after the ST. Mike sold all of his equipment in 1993 to the HACE president (but wants to find it if he can!).